A few days ago I posted a kind of
wish- and doubtlist
of the new things I would possibly like to have for fall. The Madara Sun Flower Tinted Moisturiser was one of them. Looking at my yes-factors compared to the no/maybe-factor, I was quite sure that I probably would enjoy this product.
Well, it is a product that is available in the Netherlands, so I was able to swatch it a couple of times and contemplate deeply if I needed it. After writing everything on the blog, I concluded that I had to try this product.
Shortly, I was lured in by the whole natural connection talk of the company...let's see what they have to say about Madara's philosophy:
Our perception of beauty is enshrined in our motto - deeper than skin. It means beauty that goes beyond external appearances. It is beauty wrought from health, love of life, warmth and summer, which you carry with you and is seen by everyone you meet on your way. Beauty is genuine emotions, a sincere smile, a kind and loving disposition towards people and nature. It is femininity and beauty in its deepest sense. It is a beauty which would not offend meadow flowers. It is the wisdom and force of nature.
I believe that this phisosoply is absolutely beautiful: a form of beauty that is lit from within.
But ofcourse, Madara's promotion picture does not go for a 'girl with a nice personality' and inner beauty (which, as most people know, when someone say that you have 'nice personality' they often mean that they say 'do not count too much on your appearance').
They opted for the beautiful girl surrounded by grass...
I do like her choice of lipstick, though...she has a bit of red in her hair and she has freckles, so the bronzy/orangy lipstick looks perfect on her.
I also like the peachy-terra blush on her cheeks, although it would not look so good on my cooler skin.
Opening the package, the tinted moisturizer has a pump dispenser that is hygienic to use.
The ingredients look promising:
The tinted moisturizer is darker than my own skintone. I deliberately picked the darkest colour: Sun Flower. I could have picked Moon Flower, but I wanted a sort of faker product to use when I feel a bit pasty.
It takes a long, long time before it finally seems to blend into the skin. It stays on a bit too long for my liking.
Testing the product at home, I felt a bit insecure about my purchase. It looks a lot more like a highlighter product, such as MAC strobe cream, than a tinted moisturizer. In this swatch, you can see that it looks glowy and bronzy from afar: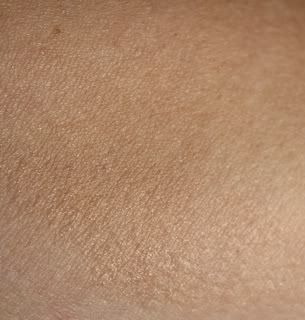 However, close up.....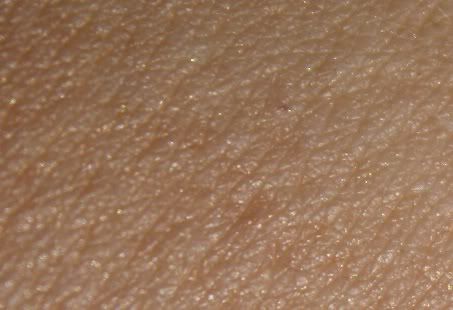 Ooooh my G...how did I missed that during swatching? It has fine glitters in them!
(you can click on that picture to see a more close, and scary view of my skin and Madara Sun Flower applied)
Shortly, I had applied this product all over my face when going outside on a day with sunshine. I should not have done that, because I was a semi-kind of disco-ball.
Ok ok, it was not that dramatic, but I did not find it subtle enough to qualify for a 'unmade-up' look that I normally want from a tinted moisturizer.
It makes a wonderful night-time product, though. But for me at daytime, it looks a bit unnatural to me. At least, when applied to the whole face.
Moreover, I am not too charmed of its scent: it is a herbal garden gone psychedelic and it lingers quite long under my nose. It was ok when I swatched it on my hand, but under my nose it was absolutely too scented. With this O.D. on herbal scent, I also had the feeling that my skin itched a bit...I am not sure if that is psychological, or physical. But whatever reason caused the slightly itchy skin, it was related to wearing the tinted moisturizer.
Uhoh, I am always aware when reviewing something that the cosmetic company will not be to happy about it. But hey, I aim to make honests review based upon my personal opinion, and not for the sake of promoting products and receiving things for a good promotion..
Moreover, it proves that not everything natural will always work like a charm. Sometimes, the beautiful and natural ingredients can be even more hindering to the over-sensitive skins.
Overall, after all my serious contemplation I thought I would be absolutely happy with this, but I threw another € 24.95 down the drain.

24.95 euros...and it did not work for me
Overal, I asked myself the question if this product would qualify for the normal girls with flaws, instead of models and gorgeous women only...?
Answer: Mmm, well...it perhaps can work on someone else, but it did not work for me.