The tail of the spring-period is possibly one of my favourite moments of the seasons. The anticipation of the summer is there, and the newness of the upcoming warmer weather wispers some kind of promise of a fantastic period ahead.
Sometimes, the summer does not live up to the expectations, but the end of spring and the beginning of summer still has that hope and lovingness that keeps things full of a bright, summer fantasy.
Wow, that was my somewhat poetic side...now, what did the haul-a-holic buy in order to 'capture' the spirit of the late spring?
I cannot find a better way to embrace this season with a accompaning scent (or two). Scent is the most connected element with memory, and a good memory can be relived with the scent that has been connected to that memory.
Plus, honestly I am not one of those eyepopping gorgeous girls that depends highly on her looks. So, I add a bit of scent-beauty to my physique in order to be a bit more remarkable.
This can work in either a good or bad way...LOL (no explaination necessary, I believe everyone has been sitting in public transportation next to someone overdosing on a perfume you were not so fond of and I myself have been wearing the not-so-right fragance a few times)
, so I would always recommend a person wearing a perfume they are drawn to than a perfume that is recommended by someone else, or your scent-personality will give out a different message than you would like to give.
Ahaa, I have been sampling in order to find a wonderful scent. The scent I samples have been quite a mixture of fragance families in the categories floral, fruity, vanilla, citrus, leathery and some perfumes have been quirkily mixing up some of these notes...mmm.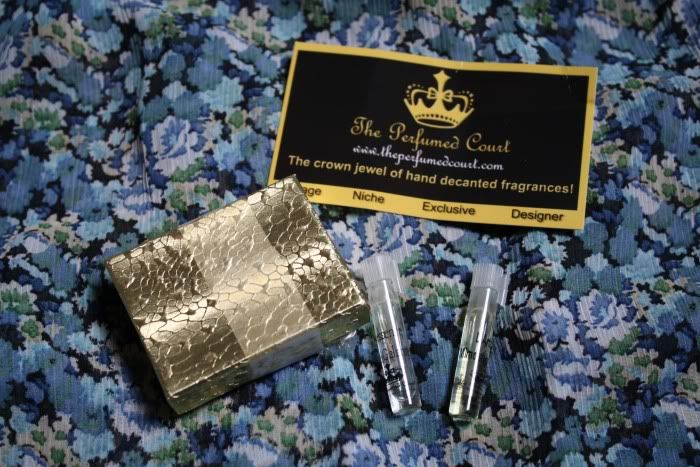 I bought eight of them, and they were all suprisingly good, even though they were different in quite a few ways.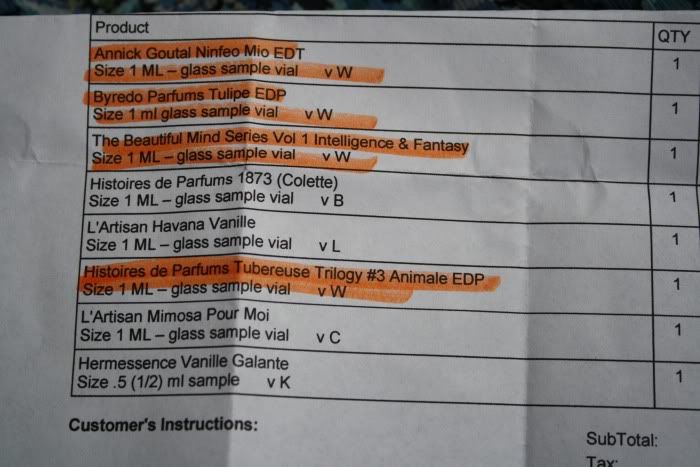 Byredo Parfums Tulipe I bought because, he he, as a Dutch woman I was curious how our national flower would be captured in a scent.
I also went for The Beautiful Mind Series volume 1 Intelligence and Fantasy. Those are my favourite key-words anyway...
Histoires De Parfums 1873 Colette has been an ode to literary figure Colette. I loved her livestyle, so I was wondering how this would translate in the perfume.
L'Artisan Havana Vanille has been described as a leathery, salty vanilla and it absolutely lives up to that description...it is Vanilla taking a day off on the beach.
Another unusual vanilla is the Hermes Vanille Galante. Hermes and vanilla sounded interesting.
Histoires de Parfums Tubereuse Trilogy 3 Animale was described as a sensual Tuberose scent. That is not something I would normally go for, but a sample...why not.
L'Artisan
Mimosa pour Moi....mmmm, fruity tropicalness.
But the one that was so suprisingly different was the
Annick Goutal
Ninfeo Mio. It has that zengy, energising citrus start that I like in perfumes, however, after a while it turns into a somewhat warm and grassy mixture that is unlike any summery perfume I have.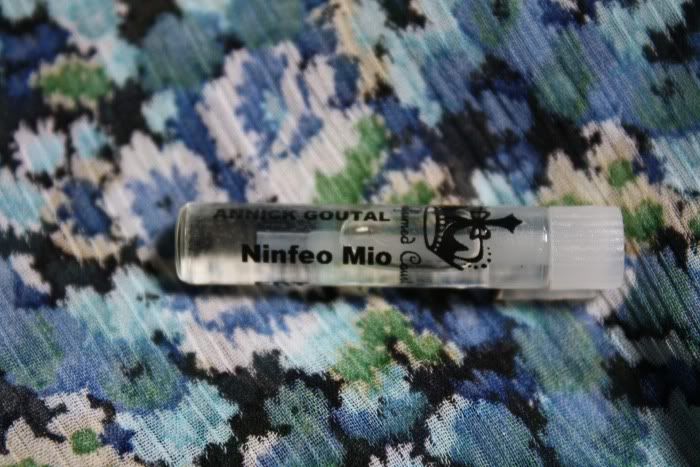 Oh no, you might have guessed it but after smelling this beauty I bought the whole bottle!!!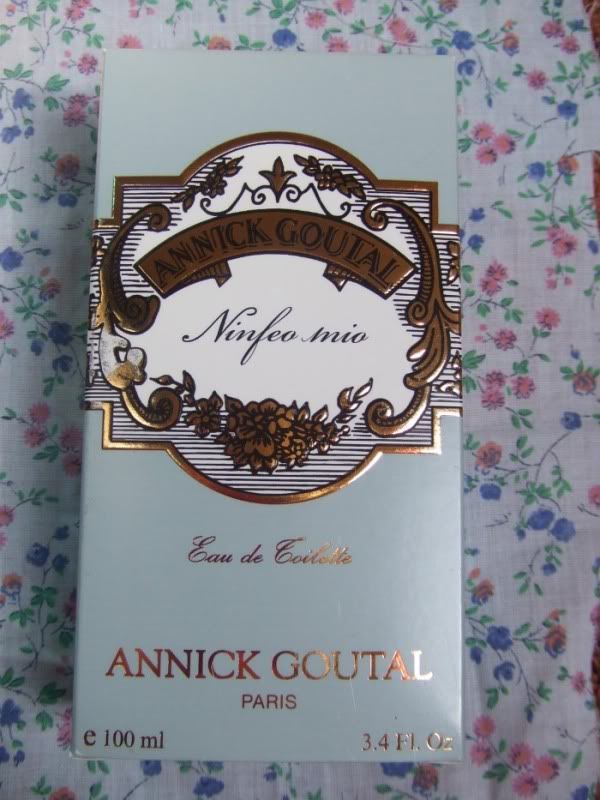 I did not 'hunt' for it as I did with the MAC beach collection
lately
. I was already in the city that has a specific Annick Goutal shop for a business appointment. So no crazy running around after limited editions, but a decided decision after lots of contemplating.
I love Niche perfume shops, which is such a wonderful place for perfume snobs like I am.
Well, I had the choice between the pretty, curved bottle of 50 ml or the bulkier bottle for 100ml, and the one for 100 ml was only 10 euros more expensive. I bought the 100 ml one, as I still believe it is rather pretty.
The only concern is that I probably will never be able to finish this whole bottle. I probably will share this with some friends and acquantances (or extras with any giveaways) as I did with the
Miller Harris
L'Air de Rien
.