Phil Collins was quite convinced that there was "something in the air tonight". I like the air surrounding me to be a kind of nothingness...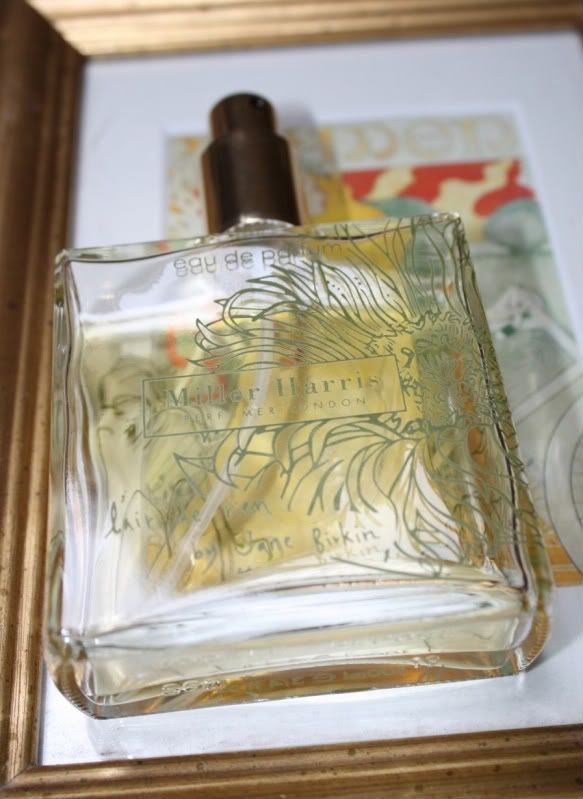 Or, actually, when I wear
L'Air de Rien
(air of nothing) the scent is more than nothing, as it is one of my most smoky and oriental-based scents I have.
Miller Harris created this scent with my muse Jane Birkin in 2007. It was one of the first perfumes I bought unsniffed based on the description, and the link with my muse. I was so fortunate to really like this perfume a lot.
How was this perfume created (according Miller Harris site):
Working with Lyn in her laboratory, Jane was introduced to Lyn's many exquisite, raw materials. After listening to Jane talk extensively of her vibrant life, rekindling memories of her beloved France, Lyn went about translating these passions into a fragrance. While Lyn performed her finishing touches to the formula, Jane sat across from her doodling William Blake-style nymphs appearing from behind the signature Miller Harris flowers. These images now decorate the bottle and packaging, adding the final Birkin twist.
Jane's vision was something chic, original ethereal and airy, like an aura around the body. The result is an exquisite oriental fragrance of amber, vanilla, neroli, oak moss and sensual musks. The lightness remains in the way it is worn, like a veil over the skin giving it a mysterious sensuality, hence the name L'Air de Rien, a name she has cherished for some time.
I once read an interview that she wanted her perfume to smell like she had been in a smokey bar the whole night long...and that is precisely how this perfume smells like...a whole lot of smokeyness, some sensual musk, a dash of vanilla (the naughty kind...not your grandmothers cookie vanilla) and a kind of sensuality that is connected to a wonderful night out.
This perfume is also one of my emptiest bottles left. I had to share lots of this perfume with afficionados around the world (on makeupalley) and with my face-to-face friends.
To me, it is absolutely not my everyday perfume...I enjoy this particularly on special occasions such as festivals or a certain kind of vibe that has a mix of hippy-esque happiness with a dash of sultriness.
It also lingers for a couple of days when you have sprayed in on your clothes or hair...
My feel-good sultry 60s maven perfume....
I wonder how the new Petit Rien of Miller Harris would smell like...should I order it unsniffed online again????