Same bag, different Empties from yesterday:

And my apologies for letting my used-ups on a wrinkled French Terry beach cloth...I just miss my little summertime experience at the Côte d'Azur where I bought this towel. I thought it looked more authentic if they'd be 'sunbathing' on a unperfect cloth than a neat one ;). Or, is it almost time for Champagne???

I could only call this batch Random: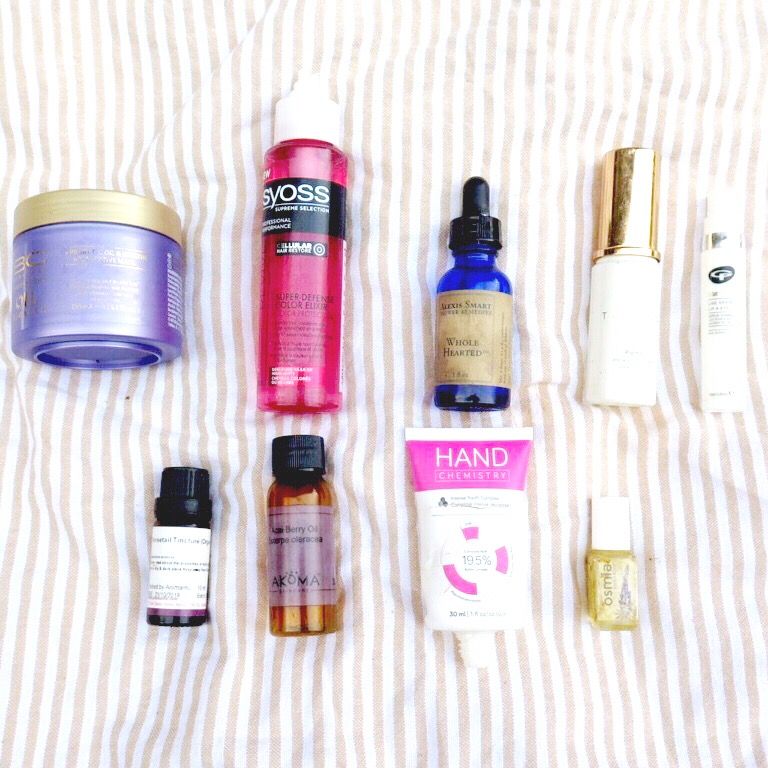 Scharzkopf Oil Miracle Barbary Fig Oil Mask: A pasty mask that smells like a chemical fruit. It conditions but it coats my hair too much: too chemical.
Syoss Super Defense Color Exilir Hairserum: I still has this chemical serum in my closet. I haven't used it up because I feel it does not add anything beneficial to my hair.
Alexis Smart Wholehearted formula: I felt down this autumn. Wholehearted somehow felt like giving me a bit of emotional hold on things you cannot always control. Love!
(obscured) Tatcha cleansing oil- travel size: I don't use oil cleansers that often as I do not wear heavy makeup oftenly. But if my skin needs more cleansing action, it is quite lovely.
(also sunblinded) Green People Age Defy+ Line Eraser Lip & Eye Serum: This serum is liquidly and slightly green tinged. It is packed with all types of organic powerhouse anti-aging ingredients and it's perfectly thin for summertime eyecare.
Horsetail Tinctum drops from Aromatic.co.uk: This is supposed to grow your hair if taken internally, or add it to your shampoo. I could not tell it really worked when using it.
Akoma Acai Berry Oil: Sometimes I prefer a single or a DIY-mix of oils that get a good rating (or that I loved in a retailer concoction brand). Acai Oil is claimed to have strong antioxidant properties and I really loved this single oil as it was thin, easily absorbant, and I woke up with good skin. REPURCHASE.
Deciem Hand Chemistry Intense Youth Complex: Lookfantastic.com had a 3=2 deal and this was my 3rd to accompany my Fountain supplements. I like it, but it smells so darn chemical that I prefer a handcream like Neom over it.
Osmia Spot Treatment: It contains anti-acne powerhouse Cajeput, also in Odacite's anti pimple blend. I like it, but my spots still take a while to dissapear. I bought some pure Cajeput oil for occasional spots but I think I'll repurchase this blend as it is affordable and rollerhandy.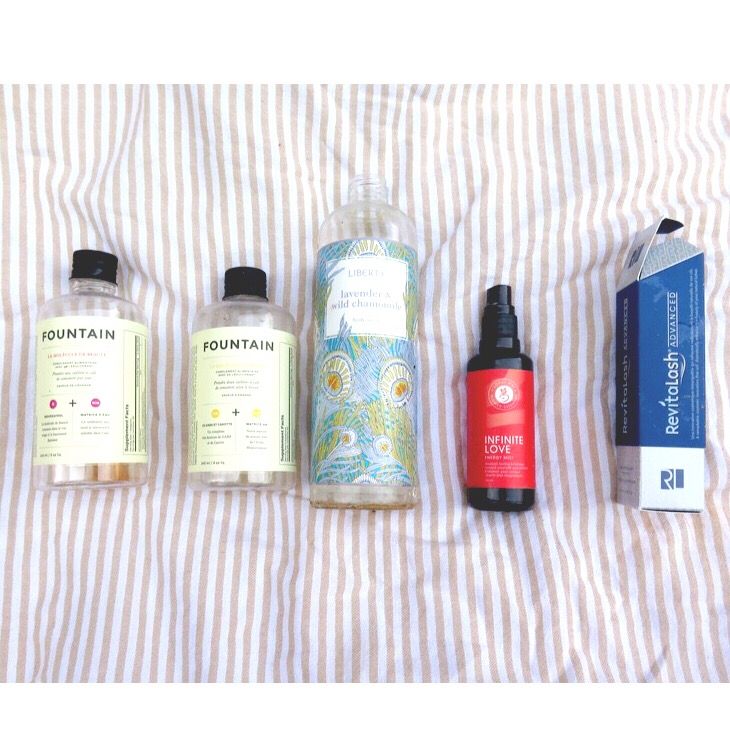 Fountain liquid supplements in The Beauty Monecule and the Happy Monecule: Deciem's liquid formulas are based on

Hyaluronic

acid, and these are fab skinplumpers. The additives for beauty is

Resveratrol aand for happy it's

GABA carrot complex. My skin has been plumping up since using these babies. They are pricy but they work better than pill-form

Hyaluronic acid.

Liberty Handwash with Chamomille & Lavendel: Soooo lovely, it smells like the real chamomile/lavendel and it cleanses gently & effective.

Lotus Wei Infinitive Love Spray: It functions as a fraganced water that should make you more open and loving to other people, and yourself. Honestly, I loved the fresh rose fragance, but when I was moody I sure did not feel it helped me.

Revitalash Eyegrowth Serum: I get longer lashes when I use them. When I stop, my lashes get shorter. I do not stop (yet)...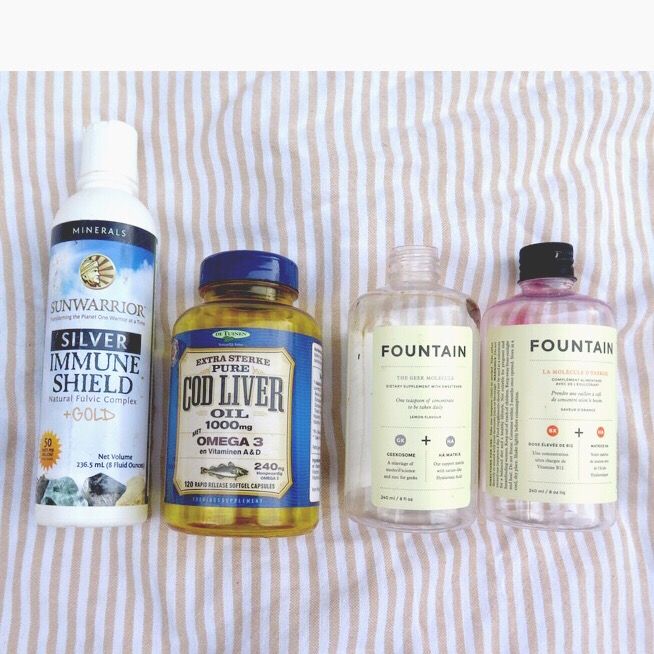 Sunwarrior Immune Shild with Natural Fulvic Acid: Initially, I bought it as an affordable alternative to Phylia [de M] $$$ version. It should aid hairgrowth, and this one claims it wards off diseases like flu. I have not have a cold/flu and I have been commuting in trains this autumn with a lot of snotty/coughing people. Bonus.
Cod Liver Omega 3 Oil: First Krill was the best Omega oil ever, now it is Cod liver oil. Oh well, this one is easier to find and I think it keeps my skin/bones more supple.
My other 2 Fountain Monecules in The Geek Monecule & Energy: I have been studying since fall and my brain gotten sharper after using up the bottle. That could be the placebo effect or just training the brain, but who knows? Energy contains B12 and a liquid formula works more effective than a pill-form.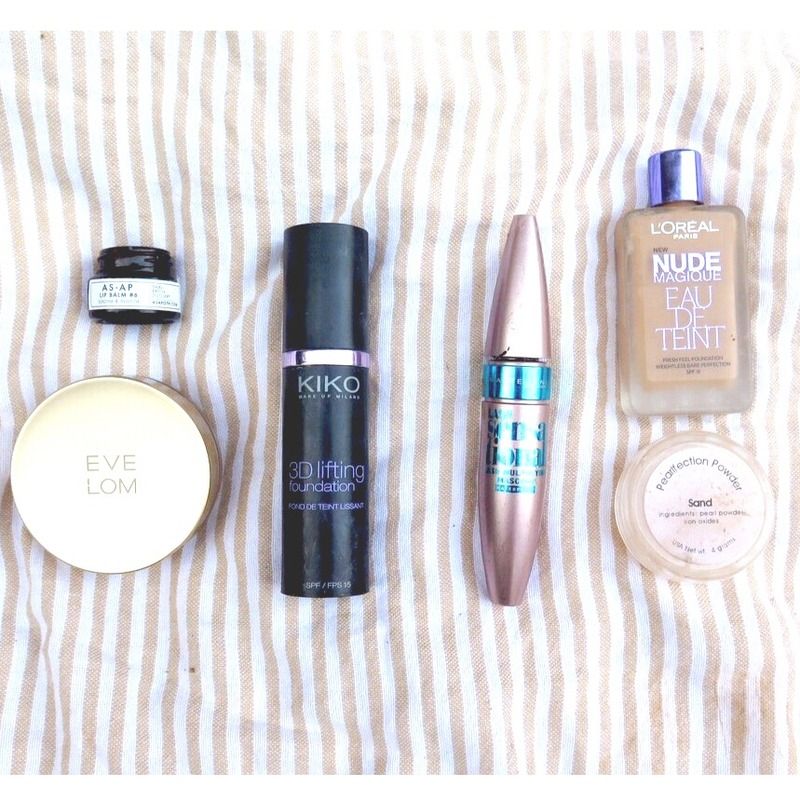 AS.AP #6 (Coffee + Orange): This is a lovely organic lipbalm that hydrates lips without making it dependant on its contents (like chemicals can). I like it.
Eve Lom Mineral Powder Foundation in 3 Buff: This formula is gorgeous, though it needs a primer on the parts where pores are slightly large. 3 Buff was a bit too warm for me, colourwise, but 4 Petal finally hits the cooler skintone spot! So already repurchased in 4.
Maybeline Lash Sensational Waterproof: Oh my, I'm such a mascara snob but this drugstore one won me over. Perfect for swimming too. Repurchased.
L'oreal Nude Magique Eau de Teint: I threw away a full bottle because it smells like chemical bonzanza. My skin is not happy afterwards either. Similar for the Kiki 3D Lifting foundation.
Lumiere Pearlfection powder sand: This is a pretty perfect afterpowder to make pores smaller and skin delightfully luminous. Ohh, such a shame this company closed in 2014...
That has been an ample list of used ups. I have found some new favourites, kept faithful to my trusted ones, and started to abandon the ones that do not work for me...
So for me to wish you guys a....
Fantastic NYE party and a delightful 2016!!!!