Ohhh. look at the Used-up bag...It's totally full!

Ok, these are actually from the last two months, but fact is...that's a lot. And I feel slightly ashamed for not having reviewed anything in a full post yet. So that will be an after-idea but first I'll post the shorter reviews...
1st batch: Skincare & Co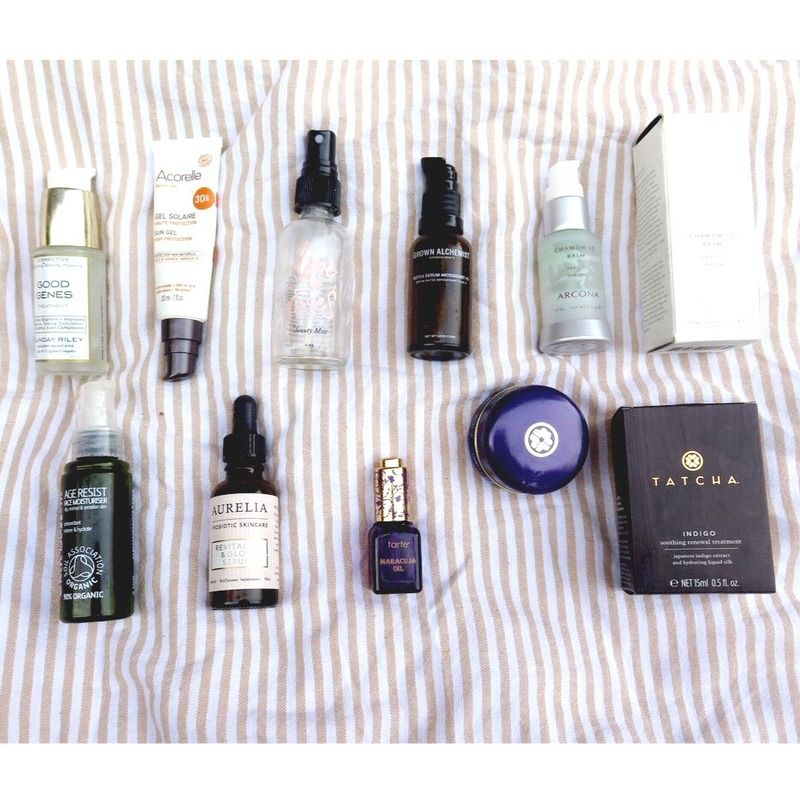 Sunday Riley Good Genes: I personally found this exfoliating treatment too strong for my sensitive skin. I used it for hands, and they gotten better texture. However, that's a bit too expensive for hands for repurchase.
Acorelle Skin Gel Sunblock SPF 30: This oil-in-gel felt too greasy on my skin.
Olivine Love + Roses Tonic: I really liked the freshness of this product and the fact it is made from organically grown roses. The glass bottle will be reused to decant other toners.
Grown Alchemist Antioxidant+3 Detox Serum: I was looking for a detoxing serum. It feels like a Essence, very watery. I think it helps a bit: the harder work is detoxing from the inside...

Arcona Chamomile Balm: Soooo REPURCHASE for wintertimes. This is a sensitive skin staple that I import from skinstore.com and often have to pay duties...still worth it.
Skin & Blossom Age Resist Daycream: This is a gorgeously neutral, organic daycream that is packed with good pro-youth ingredients. It needs a full review. Already Repurchased.

Aurelia Revitalise and Glow Serum: This baby has passed on my blog frequently (see here). Another Winter/seasonal change product I keep on repurchasing.

Tarte Maracula Oil: I like the light but nourishing feel of this oil. Does it have to be from Tarte? Meh, I like other brands as well but the freebie has been wonderful.

Tatcha Soothing Indigo Renewing Treatment: STAPLE for my problematic skin. It soothes upcoming psoriasis spots like no other and it costs me a fortune but worth it.
Next batch of skincare:
Algenist Gentle Rejuvenating Cleanser:

Nice and foamy. Not the most advanced or organic but it does the job and is soft.

Sanoflore Floral Water in Camomile & Cornflower: The Camille is so soft and retexturizes skin so gently...Just got my new French repurchase today! The Cornflower water is ideal for post-cleaning the oil & water mascara removing products-that-always-leave-this-filter-on.

La Roche Posay Serozinc: Everyone seems to love this one and me too. Repurchase.

The Body Shop Camomile Waterproof eye makeup remover: Lovely. I think Yves Rocher or cheaper brands do a similar job. On the other hand, it feels absolutely like a breeze on my eyes and I do not need to use Cornflower water to soothe afterwards. Repurchase.
Random Hair & Body Batch
Elancyl Cellu-slim Nuit

(night)

: I would not be Birkinbagbeauty if I did not test out the occasional anti-cellulite lotion. It's fine but I prefer a tube formula over a pot as active ingredients do not vaporize so quickly.
Phylia [de M] Connect: another frequent flyer on my blog (here). My love is cooling down as I do not see that much results anymore. Oversaturated maybe?
Lush Marilyn: I sound like a broken record but I often use this one to both moisturize and freshen my blondes in a natural, non-chemical way.
Shwarzkopf Blond Me Cool Ice Anti-Yellow-Effect Spray Conditioner: Ohhh, I cannot believe I reviewed it yet. It is the ideal holiday swim anti-brassy easy toner spray.

Mediceuticals x-folate anti dandruff shampoo: Well, it does a bit of exfoliating but once going organic shampoo, you will find the chemicals still affecting your scalp negatively.
******
Tomorrow I'll post the remaining Empties. Probably nobody will read it as everyone is too busy, but perhaps on your booze-fueled, hangover 1 January as some distraction for yer poor head ;)