Did you even notice that the word 'February' seems quite weird after typing it in different fonts?
Anyway, here's my selection of the products I've used up during that month with 28 days (mostly):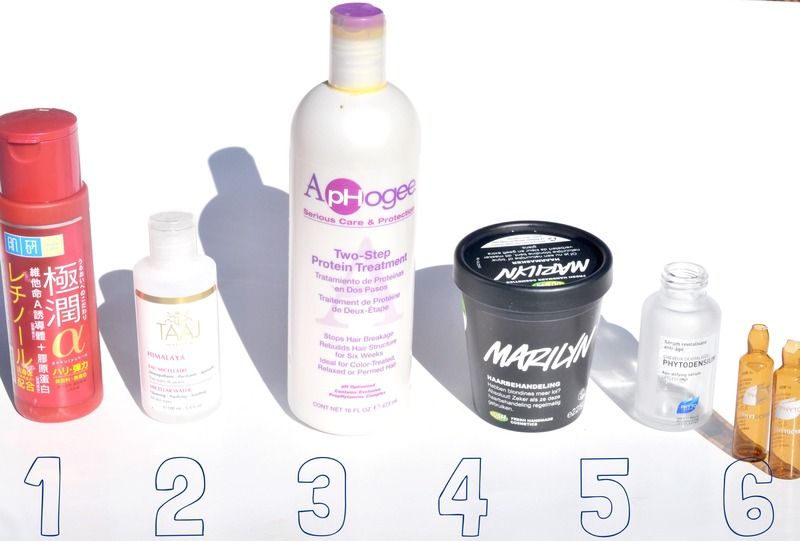 1.
Hada Labo Retinol Lifting and Firming Lotion:
I have a rule when it comes to skincare: if it does not work on the face, try it on the body. This Vitamin A was slightly too potent on my face, but how effective it has been on my hands & cleavage.
2. Taaj Himalaya Micellar water: a lovely piece from my fave French webshop. It removes light makeup, but heavy makeup needs something extra.
3. Aphogee 2 Step Protein system: One tag: #hairdressersmessup. Answer: Aphogee is one of the most potent reconstructors out there, but it needs some work and a strong (or weak) nose.
4. Lush Marilyn: A fresh pre-shampoo mask that perks up a moody blonde hue: a regular in my stash.
5. Phyto Phytodensium anti-ageing tonic for hair. It smelled like berries on speed and I did not think it helped that much.
6. Phyto Phytocyane against hairloss: Oh, how vintage are these glass vials you have to break the top off, perhaps slightly dangerous. But they are scentless and I think my scalp really digs them.

1. Kanebo Kate Lash Maximizer in Black: another staple...like a friendly superglue for lashes.
2. Life Extension Skin Restoring Phytoceramides
I think it really helped to calm my flare-ups.
3. De Tuinen St. Johnsworth Oil:
I liked this one as a body-moisturizer.
4. YSL Gloss Volupte Lipgloss in 204 Corail Trapeze
A sweet peachy pink with a fab gloss & luxe factor. I wish they did not smell like tween lipgloss.
5. Darphin
Accents d'Aromes
I wondered why it smelled unisex but it's actually a fresh men's perfum
1. Omorovzica Illuminating Moisturizer: Quite gentle when skin is acting up. As for the illuminating properties: subtle enough for some radiance without becoming a glitterball.
2. Arcona Chamomile Balm: LIFESAVER! I absolutely adored this one when my skin was worst. So soothing by the perfect hybrid between balm & fluid. I found it better than May Lindstrom Blue Cocoon.
3. Nourish Radiance Rejuvenating Peptide Serum:
A gentle and effective serum, even/especially with flare ups.
4. La Mer Foundation in no 2:
The saleslady matched me up too dark, but I used it as a (fake) tan foundation. It has high coverage but smells so chemical IMO. I will not repurchase.
5. Murad Oil Free Sunblock SPF 15 Sheer tint:
I had this one a while: you can notice that because nobody would call a SPF 15 a sunblock these days. I have used it sporadically and thought it was quite ok when I started it.
6. Tatcha Indigo Soothing Reneval Treatment:
I was severely in love first because it cleared up my lightly dry spots. When my skin really gotten bizarre I found it soothing, but not supercuring anymore. I'd still repurchase.
Random act of Sampling:
Clockwise:
The Rodial STEMCELL Superfood Glam Lipbalm has quite the impressive name and was actually really good.
Hourglass Illusion Foundation in Ivory was a shade too light, but the texture is quite nice.
Tata Harper Regenerative Moisturizer is one of those freebies I always request at Naturisimo. It works like a dream on citytrips.
I kind of like the Absolution samples from Naturisimo as well. The Serum Anti-Soif really packs the skin with a good dose of friendy moisture.
I tried the Clarins BB but I have strayed too far from the chemical high-end brands to like it anymore. Too-Much-Fragance.
On the organic front, I did not like
Gressa Foundation Serum
either. The shade was too light, but even in a darker colour
(4 comes in a weird orangy hue)
it is way too watery.
Weleda Calendula Baby shampoo & body wash is that nice neutral multitasker.
I tried both the Algenist Concentrated Reconstructing Serum as the Regenerative Anti-ageing Moisturizer. It's like, but not love.
I like a lot of Davines Haircare products. The Love line comes in both straight hair as curly and I tried the curl version (having pokerstraight hair). It's still very moisturizing and I did not get instant curls ;)
The John Masters Organics Scalp Spearmint & Meadowsweet Scalp Stimulating Shampoo is so fresh indeed. However, it is quite pricy and I think Giovanni Triple Treat shampoo does something similar for a better price.
The Earthen Insta-peel is the most funny experience. The subtance becomes an eraser! As the one on the end of a pencil!! The gummy effect does give a good peel when removing it off the skin.
Hair like Jennifer Aniston? Not sure but Living Proof Prime Style Extender does feel gentle on hair. Still, I'm not a fan of overlayering hairproducts: how much does one need, right?
Pjew, I'm out of words right now...