Lately I have been testing this new goody I received from my last sasa haul:
O'slee Peeling Milkshake Cleanser
.
I spotted this cleanser based on the raving reviews on sasa, and the promise that it would be incredibly suitable for sensitive skin was quite present in the reviews. Unfortunately, it seems to dissapear from the sasa site, which is an inconvienient thing that happens sometimes when you would like to reorder something.
The O'Slee website has some interesting things to say about the properties of Rosehip, so you can check it out if you are more interested in the idea behind Rosehip in O'slee (
here
).
If I would have the wish to reorder this cleanser, it will take a long while, as the content of the cleanser is a lot! It has 250 ml of
milkshake
inside, that almost tops the McDonalds of their milkshake contents...
The cutisy factor absolutely took part in my decision to buy it...the cleanser comes in a deep pink milk-pack, absolutely adorable!
On the side of the packaging is a very graphic picture of a before/after picture of some facial skin....yummy, pores...(LOL)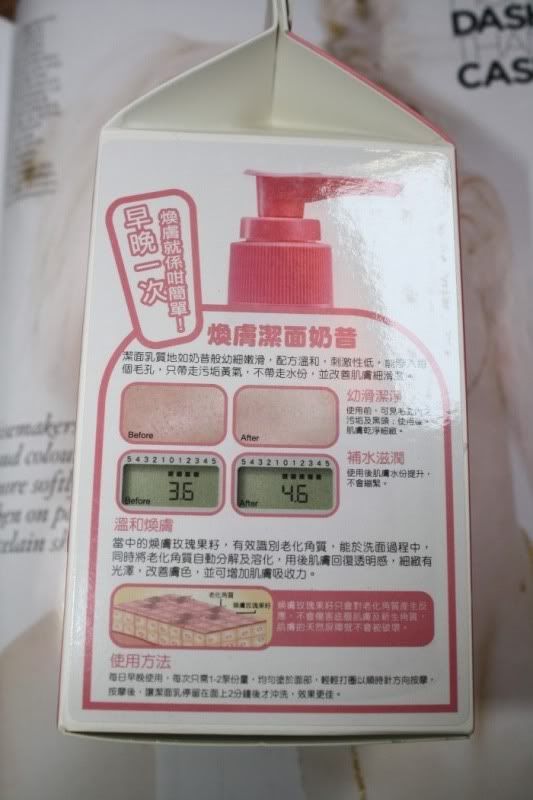 The cleanser is supposed to be a combination of a cleanser and a peeling, which depends on the manner you use it.

So let's take a look at the descriptions. First, it says that it is a mild formula that leads to low irritabilty. I would prefer to have NO irritability at all from the products I use, but I like the way O'Slee backs itself up by saying that they AIM to have no irritability, but it could happen, only in a low manner.


It also promises to improve skintone and maintain skin moisture. That is a good thing, a non-stripping cleanser: those types are fantastic in the winter or when your skin is rather sensitive.

And improving skintone, I am always in favour for that....

Mild Peeling:



Ingredients:

I like the fact that there are little ingredients inside. A sensitive skin should aim to have as little ingredients as possible on the skin. HOWEVER, I must say that if there is only óne ingredient that could irritate you, then the whole effect of non-irritation could be over.

Application:
Shortly, if you leave it on for 2 minutes, you will have a more peeling effect than if you would cleanse it off directly. It does not really say HOW to cleanse it, by water (?), tissues (?) or cotton pads (?), but I personally like to use a damp cotton pad (with water) and remove it with that cotton pad.
The bottle takes up some space in the bathroom department. However, it looks cute and the pump dispensor is both hygienic and handy: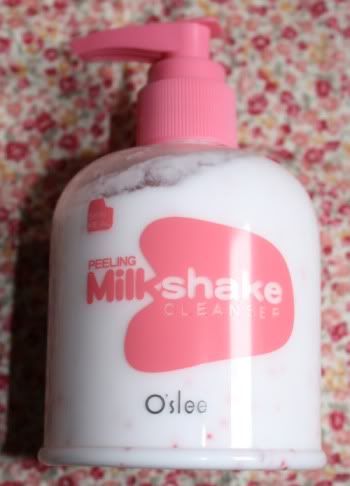 I placed some of the cleanser on a pink sheet in order to see the colour and texture. It is not really milkshake-like, but more of a yogurt consistency. The red pods inside are the rosehip-seeds, according to the package description: they are the peeling parts of the cleanser.
Effects
:
I used this cleanser for a couple of days, and it was quite a soft cleanser. On the days I left it on for 2 minutes, I found my skin to be slightly dryer (or thinner). However, it is not exactly a peeling product in the traditional sense of the word, so I would not call it a peeling.
I have not been wearing heavy makeup during the testing period, so I cannot say how it removes the heavy layers by itself.
Although I like this cleanser, I tend to reach for my sudsy wash-and-foam cleansers more these days, as the spring leaves my skin oilier than in the winter. So, after my testing period I went back to my foaming cleansers again.
I think this can be a lovely cleanser for the winter period, when wash-and-foam cleansers can be somewhat drying. So, I think it is a lovely seasonal cleanser for combination skin and perhaps a wonderful cleanser for dry skin during all seasons.