After a time of not giving away anything, I think it is time to give away some lovely Korean, Taiwanese, British, French and American products. I have left my giveaway quite international ;)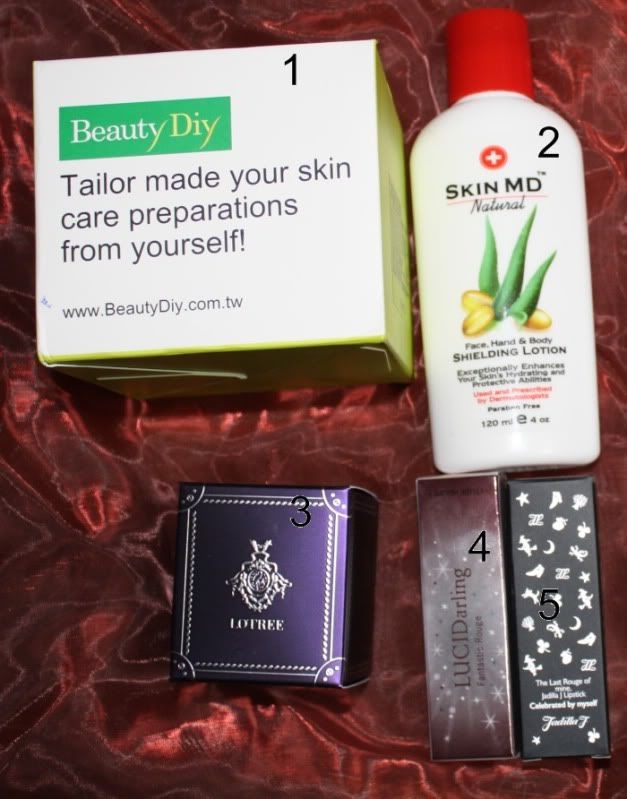 From Taiwanese BeautyDIY I have the Red Wine Mask (brand new, ofcourse). It has some raves on sasa (here)
SkinMD has been quite over all of the beauty-blogs lately, so you probably have read the raves. I can spare giving away a brand new Shielding lotion.
Fantastic Korean brand Lioelle: I have the bright Pink Mood Blush to give away. It has a sponge applicator like this, and it is a mineral based blusher. Brand New.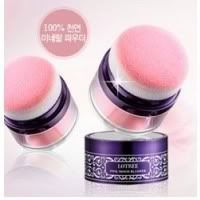 4. I
blogged about
the
Etude House LED darling lipsticks
, and have been quite fanatic about them. The colour No 4 in Pixel Pink is not my favourite colour, but I am sure it will wow lots of peachy/pink lipstick fans. This one has been tested once, but I will be disinfecting this lipstick thoroughly.
5. I have also a
Jadilla J The Last Rouge of Mine
(that is the name of the lipstick!) in colour no 2: Original Rose. (tested once)
And if you thought that was all, guess what...there is some more!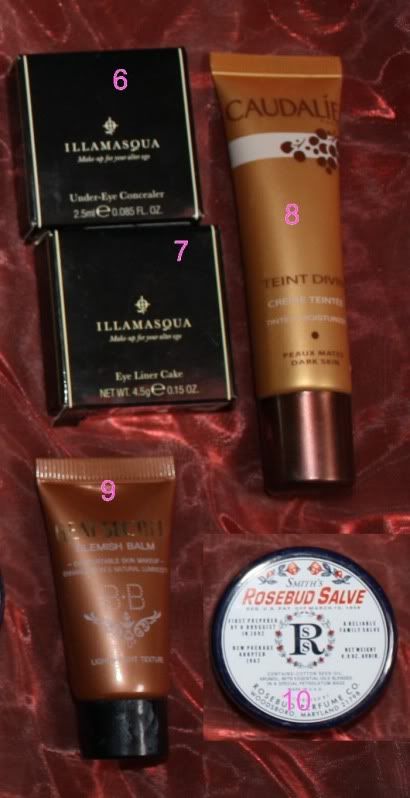 6. I really like Illamasqua's products. I have a powdered Eye Liner Cake in Mislead for the winner. It is a matte black colour, that is a classic to have.
7. More Illamasqua: The Under-eye Concealor in UC210. It is not quite a matching shade for me, but maybe it is for you...(tested 1X)
8. French brand Caudalíe and the Tinted Moisturizer in Peau Mates (tanned skin, or to use as a shader/bronzer for lighter skin)
9. A travel size of Real Secret Blemish Balm.
10. A sealed tin of Rosewood Salve lipbalm
I have to post these pesky guidelines again. So, here we go:
1. Make a comment or say something small. I should be able to contact you, or you should read closely to see if you are the winner after the drawing, so you can contact me. I do not want followers just for the giveaway, so you can join even if you do not follow my blog. I just want to contact the right winner when the winner has been drawn.
2. Contest ends on Thursday, 20 May 2010, 3 PM European standard time, GMT +1)
3. You are only able to make one comment, so no cheaters who would like to double (or triple) their chances.
4. Winner will be announced in a new post after random selection by random.org
5. Please contact me with 2 days to claim your prize or another winner will be selected! Prizes will be shipped by airmail WORLDWIDE within 3 business days after winner contacts me!
Good luck and have fun joining the Mid May Giveaway...you might be the lucky winner this time....