Now most of us are either holidaying or have one coming up, I'd like to share a travel favourite of mine.
Meet Sunday Riley Starting Over Eyecream. It looks as simple as any other eyecream:
Or somehow I find eyecreams to be looking kinda sterile compared to other facial care.
Might be because it comes closer to a fragile area, the eyeball?
In any case, Sunday Riley has Results as their 1st concern: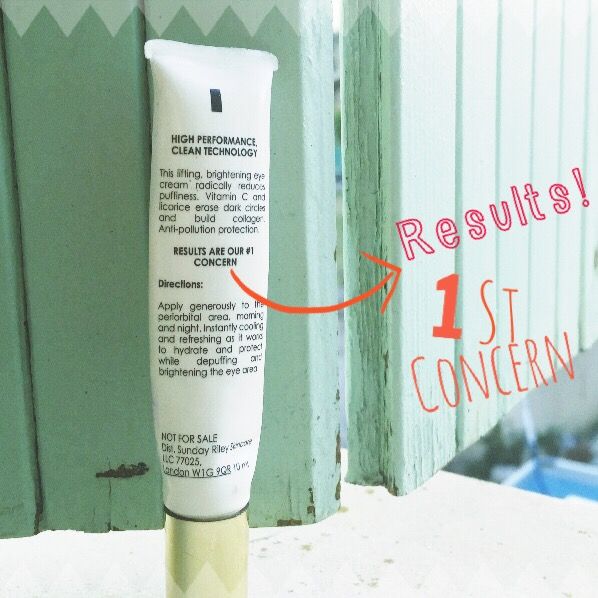 Now, I do think the concept of 'having results' is a variable. In normal English: what I want from an eyecream might be totally different from my teenage daughter. She might combat dark circles that come from Festival

[lack of]

sleeping; I want wrinkle care!
But my love for this eyecream is probably veered towards it's travel purpose: especially airplanes that suck the moisture out of your body like a Saharan desert. Also, the puffiness reminiscent of walking in a sandstorm.
This Metallic top has this perfectly cool feel on eyes. A bit of a squeeze will bring out a small dollop

[practice first otherwise you'll have an amount to equalize for the whole face]

, and the feel of the metallic top with the super-moisturizing eyecream will have your lids soothed to a key.
Ingredients:
V-5 Ageless Complex (Opuntia Tuna Fruit (Prickly Pear) Extract, Agave Tequilana Leaf (Blue Agave) Extract, Cypripedium Pubescens (Lady's Slipper Orchid) Extract, Opuntia Tuna Fruit, Opuntia Vulgaris (Cactus) Extract, Aloe Barbadensis Leaf Extract & Saccharmyces Cerevisiae (Yeast) Extract), Squalene and Olea Europea (Olive) Fruit Extract, Rosa Rubiginosa (Rosehip) Seed Oil, Punica Granataum (Pomegranate) Seed Oil, Methysilanol Carboxymethyl Theophylline, Butylene Glycol, PEG-75 Meadowsol, Ammonium Polyacrylate, Isohexadecane, PEG-40 Castor Oil, Hydroxyethyl, Acrylate/Sodium Acryloyldimethyl Taurate Copolymer, Tetrahexyldecyl Ascorbate (Vitamin C Ester) Glucosamine HCL & Algae Extract & Yeast Extract & Urea, Algae Extract, Artemisia Vulgaris (Mugwort) Extract, Glabridine (Licorice) Extract, Lecithin, Cholesterol Oleyl Carbonate & Cholesteryl Nanoate & Cholesteryl Chloride, Punica Granatum (Pomegranate) Seed Oil & Astaxanthin & Lycopene & Alpha D-Tocopherol, Methyl Paraben, Propyl Paraben, DMDM Hydantoin
As for these results again: The ingredients focus on hydratation

[eg: Rosehip seed oil, Squalene oil, Pomegranate seed oil]

, anti-ageing

[eg: Prickly Pear extract, Vitamin C, Algae extract, again Rosehip & Pomegranate]

and brightening [

eg: Licorice extract & Licopene]

.
I often feel I "start over" a bit when arriving at a new destination from an airplane. Perhaps because of the fast way of overcoming total areas, timezones and sometimes seasons.
Now
I can "start over" with representative & hydrated eye-area.
But why does only the travel format come with the eyecontour-saving metallic lid???
Also, can we have this in the facecream as well?