Brow are you? Good? Then let's talk Ecological Brows or Ecobrow Defining Wax:
Eh, a bit of a trite pun on words but how about the idea that first impressions count and people always are about that 'eyes are the mirror of the soul'. In that case, eyebrows are the framing of the mirror and they can be really important to characterize the face. The quintessential example would be Cara, but how about the 1920s moviestars who defined their fragile femininity with a thin & droopy brow:
source: Here & more brow-xamples
I personally do not think "one brow fits all". Even if everyone seems to be into the Cara-brow, you got to consider her facial structure is delicate enough to pull off a masculine brow without loosing her femininity. I personally go for some more space between my eyes and a bit of a curve for a slightly more feminine shape on my squarer features. I still aim for a natural looking brow, ofcourse!
But let's take a look of how I liked Ecobrow as a brow-definer.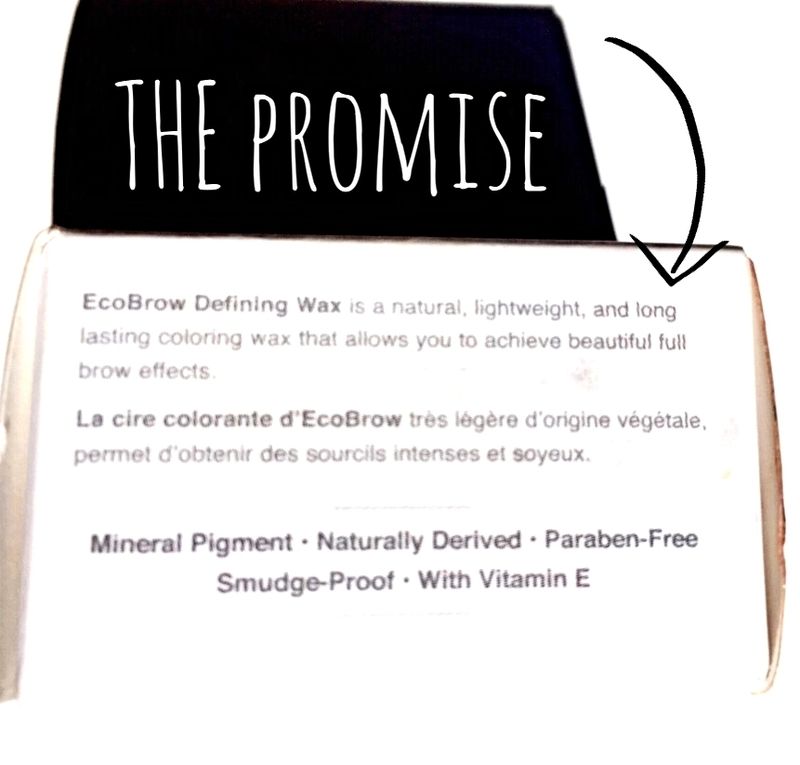 Natural
Lighweight
beautiful Brow effects
Smudge Proof
Naturally Derived
Ok, last claim is "Naturally Derived": will that be true?
sorry for the smudgies
In the first place I find some of them sounding chemical, like Neopentyl glycol. Wiki says it is an organic chemical compound which sounds to me like a oxymoron...Organic and Chemical? Mmm...
But I believe in their ecological sustainability just for the fact that I bought it from Sephora. You gotta trust the Americans for totally forking out all claims and promises like truth...or else...lawsuit!
In that case, let's check the "beautiful brow effect" it will bring me! Hurray!
Colour:
I picked Marilyn because it is the lightest colour around. I'm not a natural light blonde but my eyebrows have always been naturally light. I've been trying the darker ones, but they make my face look too stern. I simply want my existing colour to look thicker and shape some femininity in them.
The colour inside is a taupe with a slight hint of green:
The green won't show in the pot, but in the comparing swatches you will see it.
Comparing swatches:
I picked up my other blonde cream formulas to compare with Ecobrow Marilyn. They are:
EB = Ecobrow Marilyn
ABH= Anastasia Beverly hills Dipbrow in Blonde
LM= Laura Mercier Brow Definer in Fair
My tools of the trade is my latest, supersharp Wayne Goss No. 8:
Swatches:
EB: Ecobrow Marilyn is the lightest of the bunch. I am so thrilled of this lightness because it totally fills my brow without altering the colour. Moreover, it is neutral enough without leaning either cool or gold.
ABH: I never noticed how greenly tinged Anastasia Beverly Hills in Blonde was before this swatch. I don't mind because it makes the drawn-in hairs appear more real. The colour is slightly on the cooler side and a bit too dark for a total brow-fill. It is pigmented enough to draw good hairs so I can alternate this with a lighter colour.
LM: Laura Mercier in Fair is a wonderful lighter colour with more warmth than Ecobrow. I do think it fades more quickly and it does not draw the hairs as vivid as Ecobrow.
Revisiting Promises:
Natural: Mostly
Lightweight: Very
beautiful Brow effects: YES!
Smudge Proof: Up to 8 hours with a natural fade
Naturally Derived:

I'm not specialised enough to prove it is but it has not been proven otherwise yes so I guess...
General review:
I have really fallen in love with Ecobrow Marilyn. It gives my brows a natural but sculpted look I love without looking fake. It last for a long time and I do not have to worry putting unnecessary chemicals on my face.

Verdict = LOVE it.