My fave finished-up for this month has been my travel sized
Water Calligraphy
by
Killian
. It's one of the three fragances I got it during my
'spoiled Christmas '13'
.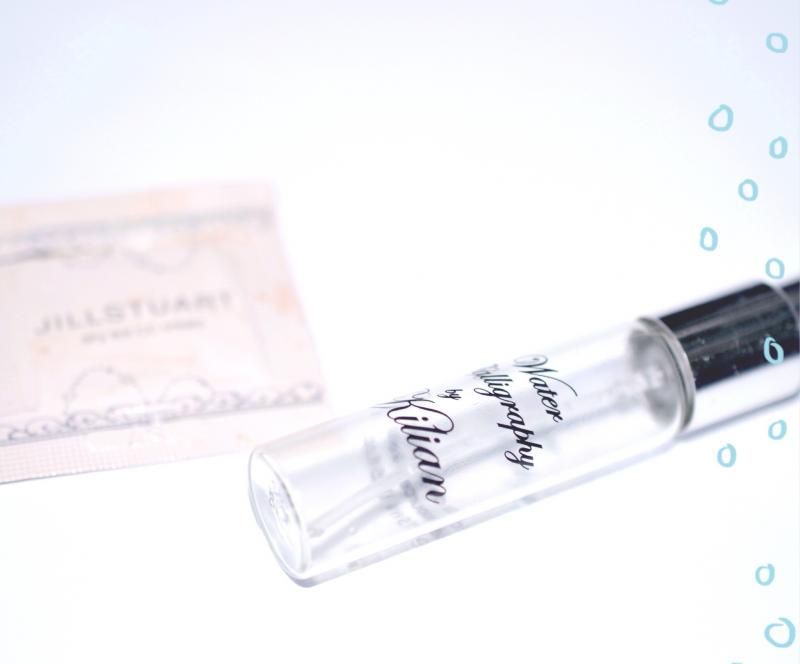 Aquatic fragances will always be a bit 1990s for me. This version is feminine without being obtrusive, fresh during summer & uplifting when colder.
The empty at the background is Jill Stuart CC foundation: unfortunately too fragancy for me.
More Foundations:
I had some testing this month & the-one-that-got-away: my Giorgio Armani Maestro fluid foundation is still half-full but it turned a bit after 1 1/2 year. It was a favourite in the beginning: excellent cover with my-skin-but-so-much-better finish. Then I found it silicony compared to my newer foundations.
*
Amazing Cosmetics Concealer has been excellent in offering high-cover, thin enough without irritating skin. It could be a future purchase.
*
BE Creative Makeup is the house-brand of beautystore ICIParis (only in the Netherlands & Belgium). Their Photo Perfecting Primer has been a supernice surprise that had similar qualities like my niche Rouge Bunny Rouge Metamorphosis. Their foundation was ok, scentless and high coverage but I have to test it in a lighter colour range.
*
Hourglass Immaculate Foundation
has been Allure's 2014 winner, and actually well-deserved
.
Scentless, weightless & a gorgeous finish on skin. Or another wishlist foundation for the future.
*
The Essence Ticket to Paradise creamy eyeshadow has dried out. I still like Essence line for experimenting with colours within a good pricerange.
*
The Boscia BB cream has this fresh texture on the skin: like a water-bubble feeling. I sorta stepped away from BB-cream when they gotten popular but this one is quite nice
*
Jouer Matte foundation is a bliss in *oily climate zones*: I'd say Barcelona during summer or similar smog-zone cities. It zaps up un-necessary oilies without dulling skin
*
Oh, I already discussed the craptastic-ness of this eyecream over
here
: case closed.
Oh wait, I'm not totally done complaining because I had some weird experience with two(!) Therapi creams this month.I had bought both the no 3 Honey Moisturizing as the Rose Otto Ultra Radiance cream a couple of months ago. I had stored them in my cool storage that totally agrees with my other skincare. Result:
weird shifting of cream/oil in both creams
I know there is a risk with natural skincare with having a shorter lifespan but this one:
1. did not have an expiry date
2. I had it for just 2 months, unopened!
My Nailpolishes, on the other hand, had a good couple of years before drying up.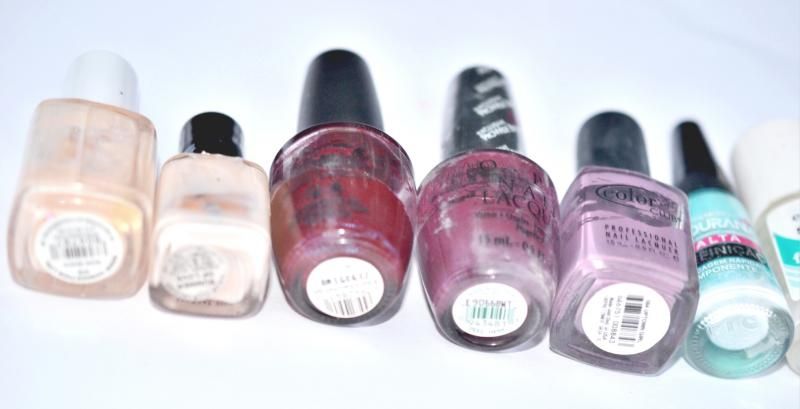 Some Essies, Color Club & a Brazillian one on the right
Bioderma HydroBio Legere has been the equivalent of Nivea to me: nicely moisturizing but not much else. I've only used it twice.
*
Soap & Glory Scrub Your Nose in it is such a versatile mask/cleanser hybrid. I'd picked it up in the UK.
*
A smaller La Roche Posay thermospray always comes in handy for a dewier complexion.
*
Macademia oil is a nice fatty moisturizer to use on hair: I smells wonderfully nutty.
*
MU London White Chocolate Moisturizer smelled similar to Palmer's Cocoa butter. This is a organically friendlier version and I really liked this travel size.
*
I didn't like the oily residue after using Live Nature Exfoliating cleanser. I felt like washing my face a couple of times again which shouldn't be necessary.
*
I really liked the Algenist Renewing Balm eyecream and I might repurchase in a bigger size. The Algenist Reparative Anti-ageing Moisturizer has this kind of neutral/lab scent and aura that would be perfect for sensitive days.
*
Continuing on Algenist, I totally liked this sample of the Brightening Mask. It's another hybrid product of exfoliating & cleansing, resulting in clearer, more radiant skin.
*
My Chelle Supreme Polypeptide cream has been nice introduction to the formula.
*
I've used the
S5 brightening serum
before
, but this time I really needed it. I previous long-weekend left me with a sunburn
(lousy sunscreen's fault)
. I think this generous sample did lighten me a bit.
*
First Aid Beauty Total Repair cream is so incredibly neutral and moisturizing at the same time. I think it would be bliss when you really need it.
Last but not least: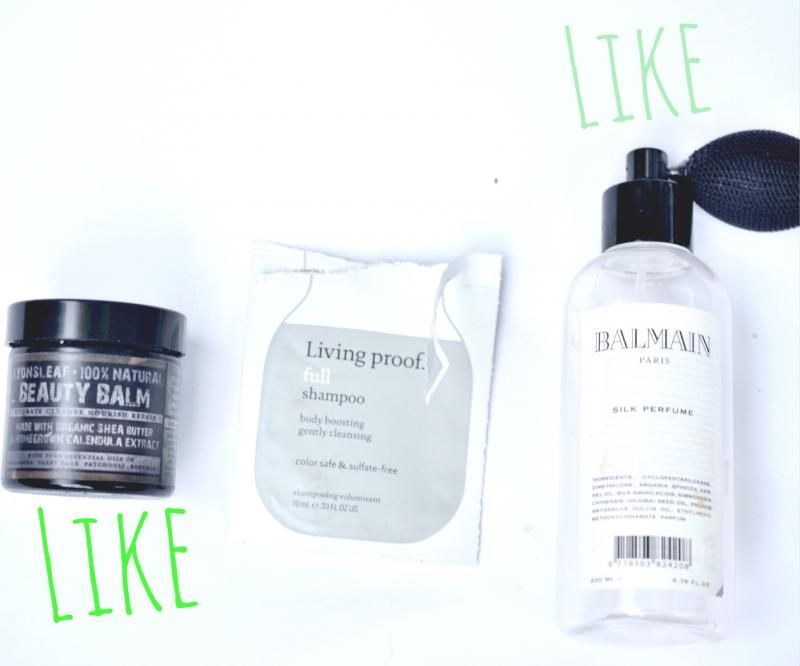 Lyonsleaf Beauty Balm is a firm favourite among Organic oriented beautybloggers. That's for a good reason because this is an amazing multitasker being able to cleanse, moisturize lizardy cuticles and other dry areas. It smells gorgeously herbally.
*
I've been so curious for
Living Proof Full Shampoo
. Obviously, because it's co-owned by hair of the 1990s
(and still)
Jennifer Aniston. Reviews were mixed and I get that: it leaves a residue behind that curly/dryer types will love and the thinner strands won't. I liked the result, but I didn't like the green tea scent.
*
My 1st Vine-ed item on this blog: The
Balmain Hair perfume
[
here
]. Something did leak out but I'm sure I'd finished it with much enthousiasm anyway. Basically, LOVE: a fab hairglosser and a gorgeous fragance in one.
Ok, I've lied about it being the last. There are still some
lip-products
:
The Aube Frutina Gloss EX03 so amped and it probably one of my glossies glosses. I had it for too long so time to let go *sheds tear*
*
Ah, a Mascara. I really love
Kanebo Kate
eye-primers but this
mascara
is just average.
*
The
Pixi Lipgloss
(right corner)
has been discontinued and I totally worn off the name. This gloss is
your-nude-but-better
. I wonder if their newer glosses have a similar grip on lips like this one.
*
To finish with a mystery lipstick:
the
lipstick
on the bottom is
Korean
but I cannot say which brand. I did
so many Gmarket orders
in the past #goodtimes. It just has Korean signs & PK 002 at the bottom.
Now after writing this down I feel nostalgic for ordering from Gmarket again: the effort, the hassle, the decifering Korean signs, but most...that awesomely big package that's the equivalent of a Russian doll:
past Gmarket haul
Yes, such box-i-ness can only be Gmarket!