Today I'm gonna share some about Clay & beauty. You might have read some things about clays before, so consider this your 2 cents that completes the other 98 cents :)
There are a lot of varieties that can basically be defined in colour. Every one has different properties, but most share the one that they are good as detoxifier by absorbing the baddies our of your system; either your skin, scalp, or some even digest it. Personally, I only put it on my skin & scalp.
Two varieties that I have used lately:
I bought a cosmetic-market targeted version from
Kae
because of the
amazing review
s. The
white
brown version of Rhassoul is the polished one. A purer version is often red, as seen in the next one.
Argiletz Red Clay Ultra Ventilated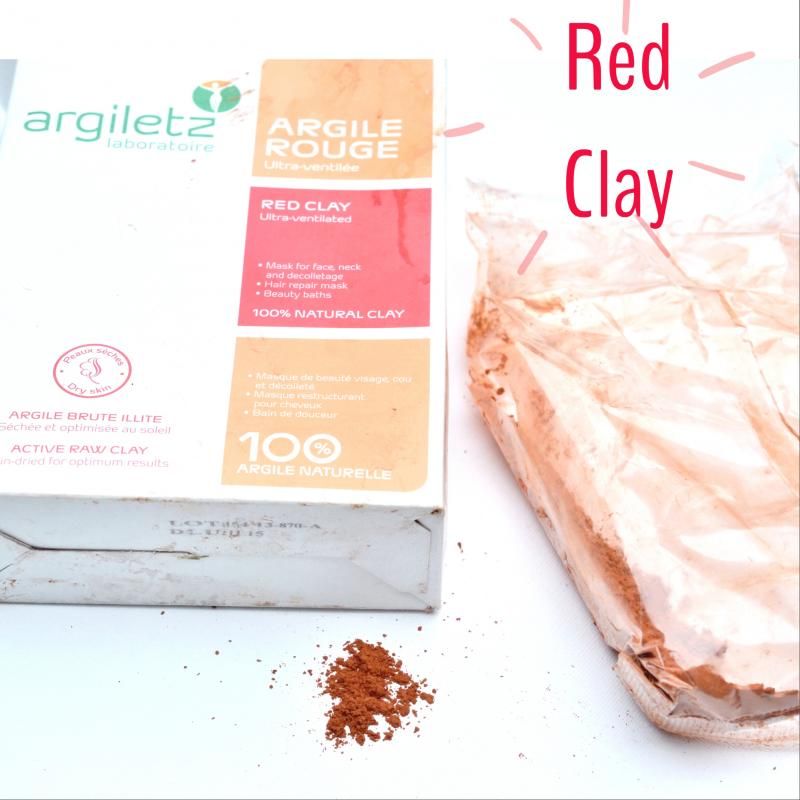 Argiletz is a French Brand that comes in a 200 gr package within a nice pricerange:
& clear Instructions: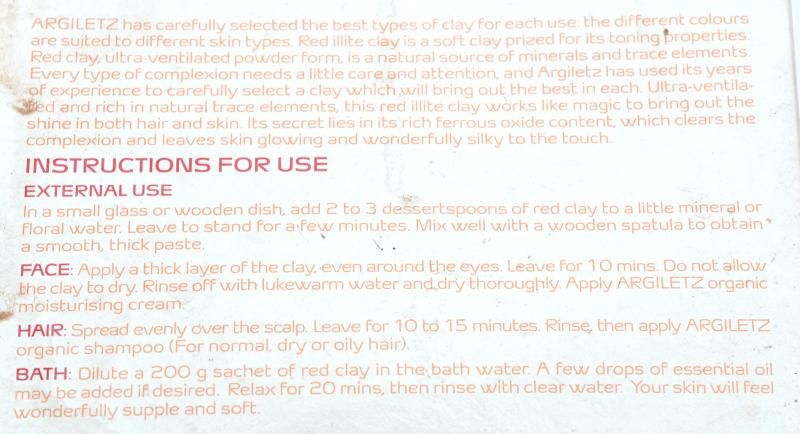 sorry for the smudgy
Rhassoul clay:
Rhassoul or Ghassoul is a Morrocan clay. Most people in beauty have positive connotations hearing Morrocco: Argan oil & the brand Moroccan Oil. Clays are also being used in various beauty-rituals.
claymask for face and body: it's both a gentle and effective cleanser for withdrawing impurities
It has a rejuvenating effect as the high content (58%) of Silica stimulates collagen production
bathing: the gentle detoxifying effect & the addition of various minerals are suitable and perhaps even healing for eczematic skin

(I personally have not seen any shocking healing)

Scalpmask: I have done this and I have some reserves on this one too.
Face?
I'm always on the lookout for real pore-cleansing masks. I seem to have the unlucky combination of open pores (larger) but they refuse to let go of their gunk easily. My facialist thinks I do a good cleaning them: I guess regular claymasks work.


I liked both Kae as Argiletz. I've been doing French
green
masks before: the Rhassoul variety is much
gentlier for sensitive skins
. It draws out some impurities, enough to see a difference. I do not feel the need to follow up with a moisturizing product afterwards.
So the scalpmask?
Not the most succesful way of doing clay for me:
I felt my hair looked redder afterwards: Note, lightened/bleached hair is often porous & changes colour in swimmingpools -> green. So why wouldn't it attract red pigments from clays?
My hair felt greasy afterwards: Rhassoul has moisturizing properties that make it a gorgeous treatment by people with curly to very curly hair.. I had to wash it a couple of times to get the greasy feeling out
It calmed down my flakey scalp. Unfortunately, that was counteracted again by the overzealous hairwashing afterwards.
I think this mask is bliss for people with curly or middle-African hair. It was not that succesful for my type of hair, which is a shame because it felt nice and relaxing during scalpmasking.
Overview:
Various blogs & people have been embracing the natural & organic lifestyle lately. Like any product, it's a trial & error field. Sensitive & allergic skins might think they're better of with organic, but the added essential oils might not always be the best choice for them.
Clays are a more neutral option, unless you add something extra to them, like honey, oil or essential oils.
Nevertheless, what works for one skintype or hairtype might not work for you. Thus, test-patches are probably the best way to know what your skin will do. And personally I would not do put anything with either natural & artificial colour (unless desired) on lightened hair.
If this has been your first 2 cents on clay and/or you want to add more 2 cents: