Welcome in mid-summer...
Summer is season that either appeals to you, or not. And even if you totally adore summer season, as I do, there are some things that are to be considered in order to enjoy it fully (and keep the negative sides of summer away from you).
First, the bugs, and I am not talking about pesky men, can be quite irritating when enjoying your summer drink. Browsing etsy I found this natural-based spray with the cutest themes from the lovingly named
heartbroken mosquito
shop. I skipped the ubercute sounding 'unicorn safe mosquito detergent' and went straight for the '
repel guys who are players
' mosquito spray...
Ha ha, it is supposed to work in both ways: repelling both the pesky player guys and the mosquitos!
Honestly, I am not the most delicious food source for either mosquitos and players. But there have been some irritating bugs bugging me in my life.
I do not want to generalise either players nor mosquitos, although the mosquitos are a bit easier to pin down. Biting mosquitos are females, and players can be both male and female.
Only women get different names: when the female player has a kind of mystery surrounding her (or nobody knows anything about her) she is often branded femme fatale. The less kind word for the woman with a large capacity of man-magnetism (and the ability to act in a similar way the male players do) is branded 'sl*t' or something similarly unflattering sounding and meaning.
The male players...mmm, it depends on the level of game they like to stick...Some can indeed be pesky when they suspect you might not be into them...but some will go for a different target...just like mosquitos.
The side has the next description liste:
*
Ladies are you sick of going to a BBQ, outdoor concert, camping etc. & getting hit on by guys, who are players & nagging mosquitoes just won't leave you alone either. Then this is the vegan, all natural repellent for you!! It's time to take charge!! It really works amazingly well (see ingredients below)!!!

This repellent has an extra essential oil in it for an extra kick booty, supergirl power move...Ahh, the power of 'Wintergreen Essential Oil.' So with the power of over 10 essential oils, all known to repel mosquitoes naturally...we must break their hearts & tell them to move on (in a very kind, earth friendly way of course).
To the ingredients:
Does it work? Ha ha ha, I cannot really point out about the players when I was wearing this, because some come in sneaky disguises of sweet-or-standard-looking-boys/men-who-are- supposingly-genuinely-interested in you (they come in different forms)...I did find the DJ looking at me at some point at a summer Fête, and DJ are often quite player-like. But he could not smell me because it was at some distance so I cannot really tell ;P
Mosquitos often go for other people too, but if I am alone in a mosquito crowded area they sometimes settle with me. With this spray, they even went away and searched for someone else.
The scent is still quite lemon-like, like those drugstore anti-mosquito repellants. It has an earthy note added to it. It would not be a scent I would like to sport for going out, or such, but it has that earthy vibe around it.
And when you have been sucessfully fighting the mosquitos and players, you still have to take care of not making yourself look like a lobster, or harming your preciously build skincells with those damaging UV sunrays.
I went for Japanese skincare to tone down those rays. That is somewhat random and somewhat decisively picked out by me. Sunblocks have improved tremendously over the last years, so the often hyped about French La Roche Posay has been having some fierce competition of other brands from other countries.
What I love about the Japanese sunblocks I have tried is that they feel really light on the skin, and do not make you look like a greased up person with sunblock --> they often are targeted for people with combination to oily skin, and often tone down the oilies.
I like to multitarget, and I like browsing Sasa and filling up my cart until I have reached the amount to receive free shipping. With these considerations I bought a sunscreen suited for both face and body: Mentholatum Sunplay Water & Sports SPF 130 PA++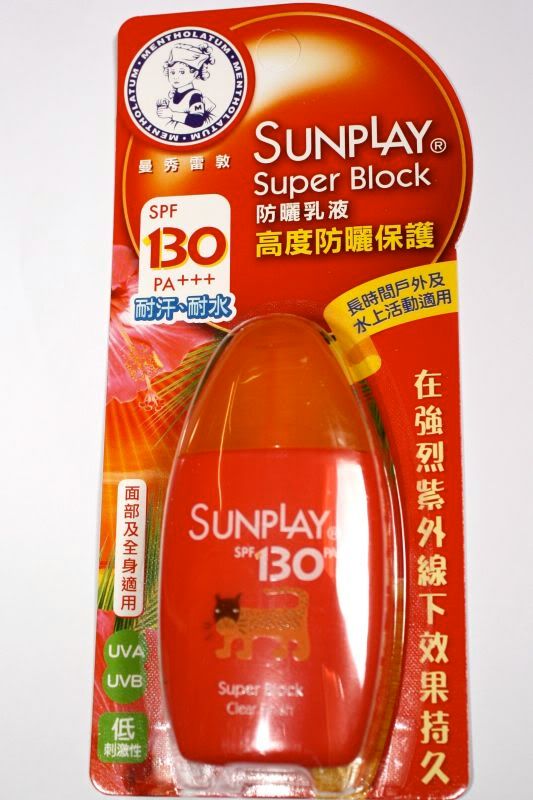 It has gotten superb reviews on
SASA
, and I really wanted to know if it was worth the hype. Plus, I really like to be active when going to the beach, and the formula targeted for active people going into the water and doing sports was something right up my alley (instead of lying pretty on a towel, which is also something that is good, but personally I prefer to be more active).
I have tried it a few times, and it is really lightweight and effective against tanning. The formula is realy thin and liquidy, so watch out that you do not squeeze out too much when applying.
The colour is white, which is not too bad, because the whiteness will dissapear after application (around half a minute).
I also like the cute litte tiger on the bottle:
After a day with sunscreen on your skin, I suggest removing the sunblock from your skin, in order to let the pores breathe again. Well, pores can still breathe with the sunblock, but just like makeup, it is always better to remove it from your face and/or body.
For my face I use one of my favourite cleansing oils, for example Kanebo Naive Olive Oil.
For my body I use the least favourite cleansing oil in my collection. That is right, the least favourite (sorry Etude House Cleansing Dream, but you just stay too oily on my skin and I need to rewash my skin after applying this).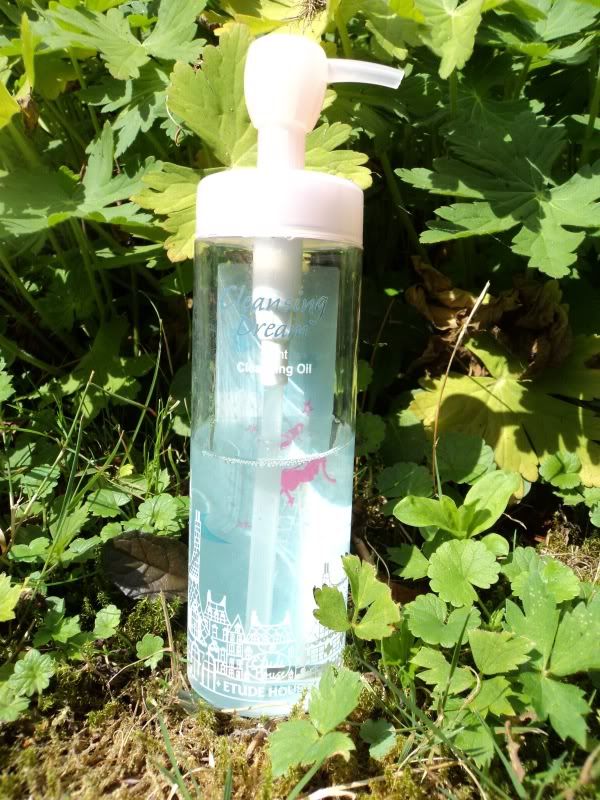 I am still too frugal to throw away this cleansing oil, and it works to get the sunblock of my body. I do not mind the slightly oily feeling that lingers on my body afterwards, but with my face I would mind, so it still has a function for me.
Keep it cool this summer (or warm if you like the warmth), keep an eye on those mosquitos and/or players, and be protective to your skincells!