Hi all,
Sorry about this absence in the summer.
I have been tripping a bit too much...city tripping, that is...
When most people like city trips for the sake of looking at art and culture, I often get a bit carried away by all of food that is around.
Ohhh, cupcakes and other cookies...
This is in front of a tempting shop window in Barcelona. I felt like a kid in front of a sweet's store.
(oh, I was, only as an adult!)
More cookies, caramels and other lovely sweets I found at La Cure Gourmande, also in Barcelona.
They also are in other countries, and seem to have an online shop (
here
).
Honestly, the shop people of La Cure were not too helpful to me, so I only bought 3 cookies or so. I was planning to buy a lot as presents.
Worst was, they offered free samples of cookies to all of the other customers and ignored me. Blah, I hate when that happens and I have no idea why they do that. And normally I will take my plans of buying a lot to another store, but I had to try one cookie at least.
Ha, and now I found out they have online shopping, so the shop in Barcelona can stick it to itself....
Sooo, do you have any idea what these people are waiting for, or looking so curiously at?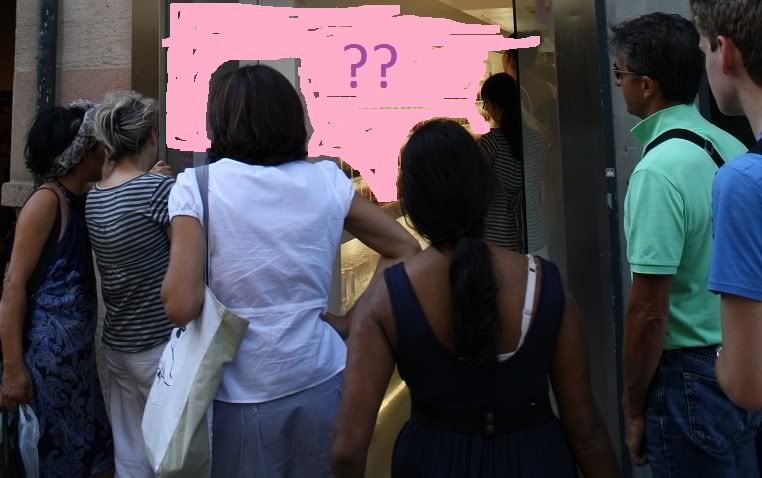 (open space)
(more open space)
(last open space)
Ok, they were looking at this...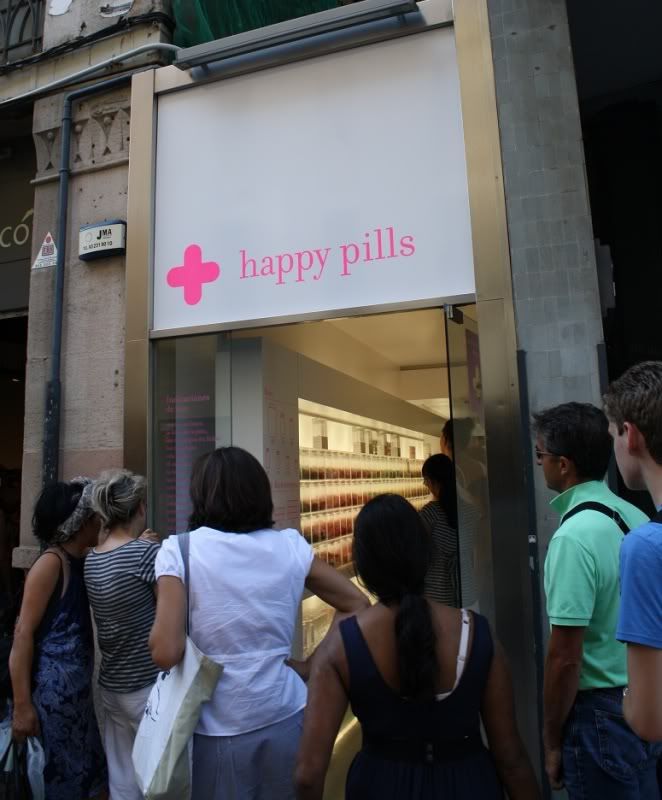 Ha ha, I told you about Tripping in my title!
Come on, it is candy, folks...(still, my favourite choice for getting a sweet high)
The 'pils' are quite innocent, only for the ADD people and other people who get a bit hyper after sugar they might have an effect....

Inside of that 'Happy Pills' shop
And, if you think I am obsessed by anything about sweet candy-like food, then you are wrong.
(
Silence, pouts at the idea you could actually think that
)
I am obsessed about other food as well!
In that same Barcelona I went to Poble Sec in this street...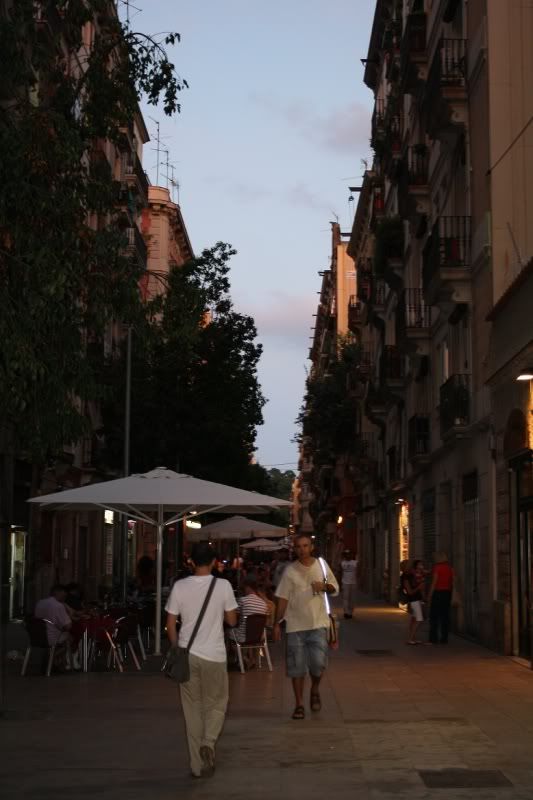 and had a predictable, but healthy salad.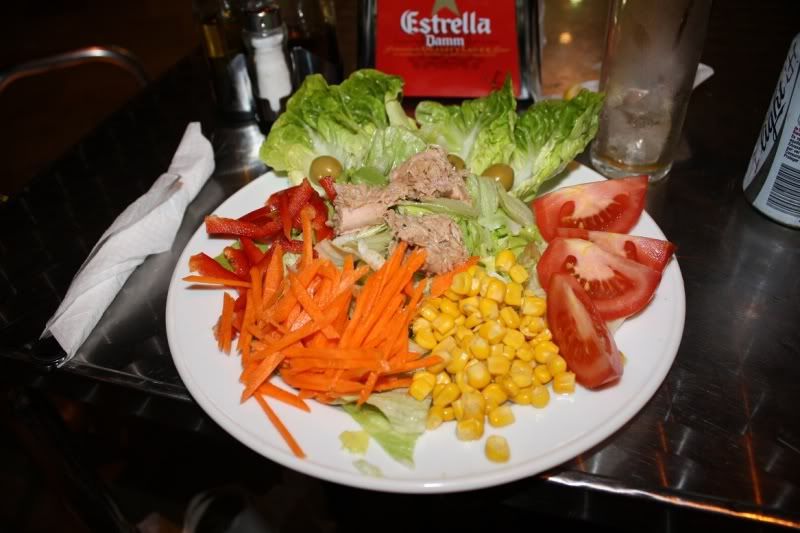 I am not the salad fan that most girls and women are. I do not like diets and the excuse that salads are healthy is not always true. I mean, when they only have green salad leaves and not that many healthy vegetables it is only a bit of empty filling for the stomach. And those dressings can be even worse to the people who do like to keep an eye on their weigth.
But this is quite a balanced salad with healthy tuna (sooo fantastic, so much better than the Dutch canned version), Carrots for that bit of vitamine A, Tomatoes for the Lycopene and vitamine C, Red pepper for the Vitamine C, and olives and olive oil for the Omega oils and other skin-beautifying and internal beneficial properties.
And the corn must have a good function as well (tell me in the comments, and no, not that Chinese dude or girl who is spamming the comment box)
Haaa, I am not all healthy in Barcelona and keeping it to a salad...These croquettes were too good not too pass...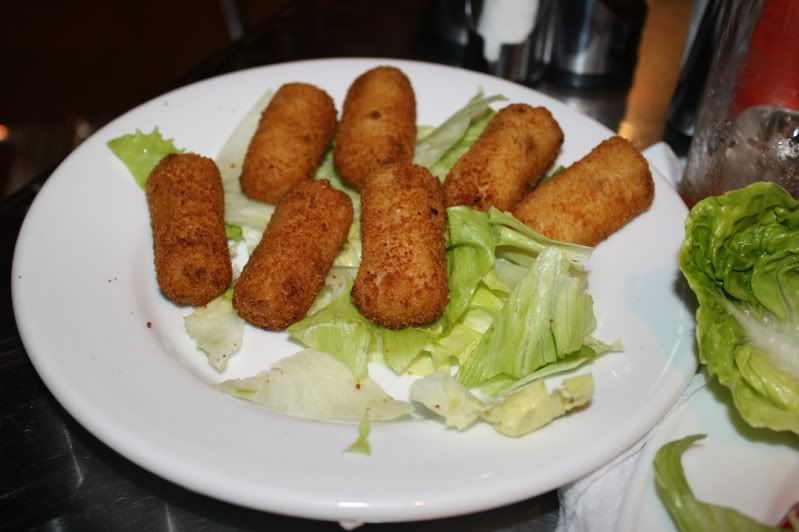 Uhum, fried food...but they were delicious and I had to compare then to our Dutch delicacy (or weird food habit) of the Dutch croquettes. These were filled with a potato mash...nice.

I saved the best for last....these were so tongue-tickling good that I was in culinary heaven when I took a bite...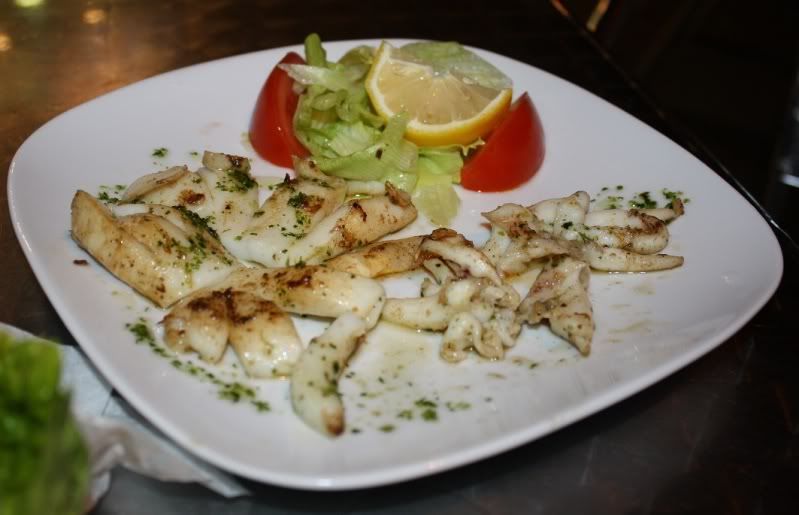 These squids were flavoured in a mixture of garlic and other beautiful spices....
I am not really sure if the person that sat next to me in the airplane that next morning would have been too delighted with my choice of the squid...but it was too good to pass up...
So, if you read this and like to answer I would like to know if you experiment with food while travelling, are obsessed with trying on a certain type of food or if you take it the safe way and go to the McDonalds or other food franchises?
Or, perhaps a bit like me, you do both...(it just depends on where you are and if you are willing to sit through a wonderful but lenghty meal on the one hand, or just hop in that Mc Donalds for something you know when you are more in a hurry)?
Do you like any food at all? (most of the bloggers do, as they aaaalways tempt me with pictures of the fantastic things they ate...)
Or, are you more of a liquid person and go for the local beverages or other or other alcohol-type of drinks, for example...go for the wines in France/Italy and the Sangria in Spain (of fill in, I am not an alcoholic-afficionado so I have not that much of a clue)?