After a reasonable while resisting the temptation of Gmarket, I decided to make a small order for the sake of research of my blog.
(ok ok, and my own shopping curiosity...)
I often check out if Etude House has some new additions to their line. It is difficult to keep track of their latest releases by their website (
etudehouse.co.kr
), because they do not seem to update recently about their new releases.
So I often look at the
gmarket shop
and click on 'recently listed' to see if....something is recently listed is new.
They actually had something interesting last time. They added a new body-oriented line with products for slimming, toning and other body related cosmetics under the name 'Hot & Cool'.
Also, a body highlighter that looks rather similar to Benefit's line: The cute retro inspired girl and a brightly coloured box.
The message is as cute as ever:
Brighten your body, brighten your charm.

It is not really promising you the world or worldpeace or to be as bright as Einstein, but your charm will be brightened.
(mmm, I'm not sure about charm aspect, but I'll get the idea).
First, the fact I was lured in was of that wonderful bunch of extras Etude House promised me. Anyway, I have ordered from Etude House before, and they can be fickle with their promises
(or, I have misread something in Korean that has some regulations about shopping for at least a certain amount of cash before receiving them)
.
They promised me this: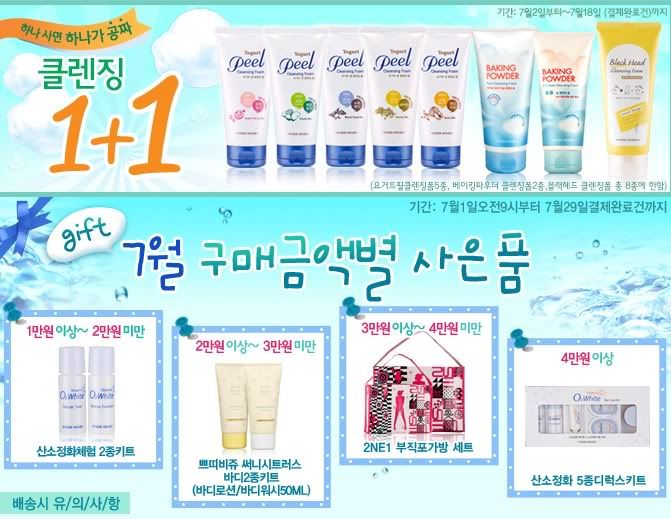 Looks lovely, ah?
And all I got was this:
It contains 2x 2 ml of their Total Age Repair line.
I am not going to complain further about this...but you can see the difference between the promise and the actual delivery.
I have more things to be slightly iffy about.
I have made a picture of the side of the box. It is quite large and bulky, which I normally do not mind, as long as it has as much inside as what it looks like.
In this case, there is a whole lot of empty space, or space that has a powder puff inside.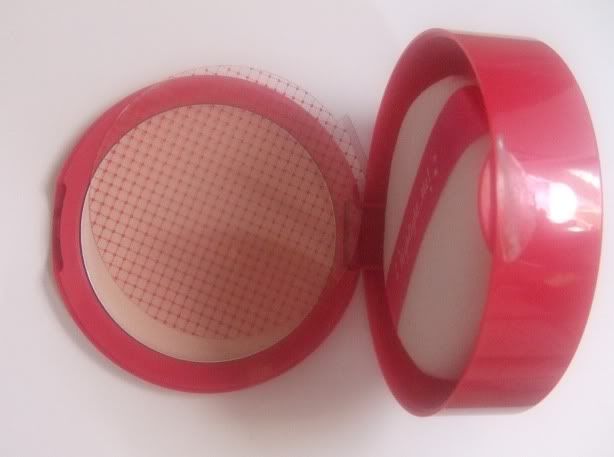 That powder puff also is incredibly useless to me, because the actual product is a bodyBALM. How on earth would you like to apply a bodybalm (read:
CREAMY
product) with a puff that targets for POWDER?
However, I am also quite happy about the actual product...

(I put this in large letters, because the texture and consistency of the balm is actually really workable and gorgeous).
Only, I would say that is too subtle for body highlighting!
(Did I actually use the word subtle and highlighting in one phrase? I always mention how glitterly and too shiny some products are)
It makes a fantastic FACE highlighter in my opinion....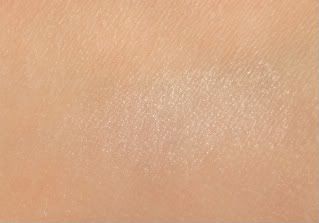 The balm gives a sheer white glow on the skin. There are not obvious sparkles or specks to be seen, just a subtle glow that can enhance cheekbones, browbones or the cupid bow of the lip.
If you still like to use it for subtle body highlighting, the collar bone around the neck or you can shade and highlight the cleavage for optical volume, or place some highlighter on the shins of your legs to make them slimmer.
I have found this tip on glamourmagazine online: 'Can you guess which beauty tip these Victoria's Secret models use here to look a bit sexier?", which uses body highlighter as well (
here
).
Well, if they would actually NEED it to look sexier...blah...(
chants: not jealous, not jealous).
Anyway, it is also a relief to know that these women are prepped for a fashion show (and are in the makeup seat for quite some time).
Overal conclusion:
Positive:
The product itself is such a lovely, whitish highlighter that suits a large variety of complexions and skintones due to its sheerness.
I believe it is more suited for facial highlighting, but it can be a subtle and delicate body highligher as well.
The texture is quite balmy, thus perhaps people with combination or oily skin will prefer to opt for a powder highlighter instead
The can is cute looking with the retro image
The price is reasonable: around $9 including shipping.
Negative:
The can is too bulky, with little product inside
The powder puff is absolutely useless
Etude's gmarket shop does not have it listed anymore(?)