When travelling or playing the tourist I often have a different attitude towards makeup than at home. Still, I do find myself intrigued when passing a makeup store that I have never seen before or ever heard of.
During a citytrip in Barcelona I stumbled upon KIKO, a Milanian makeup brand. Well, finding new goodies can also be the benefit of travelling, so I browsed in their collection and swatched a bit of the colours.
KIKO, according to their site (
here
), is available in Italy, Spain and Germany. It kind of makes it tempting to have something that is not easy to get in your own country, doesn't it? That made the appeal even bigger for me to buy something.
One of my purchases has been this beautifully lustrous peacock green eyeshadow for about 5 euro. Which, so lovely, KIKO has affordable prices all over the store.
They have an attractive slogan: "Be what you want", which somewhat is a Italenglish of "be what you want to be" (but don't quote me on it, I am not a native Engish speaker either, so it might be perfectly correct Standard English).
It somewhat reminds me of that wonderfully tacky 90's hit I used to dance on of Kristine W. (
WHO? well, play the video and you'll probably know or you are just quite too young to remember, which is ok as well
.)
Well, the theme is somewhat similar at Illamasqua, as they have "makeup for your alter ego". I believe KIKO is not so much about alter egos (only if you like to), but more about the choice to be the you that you-yourself wants to be...
(yeh yeh, it can also be that marketing thing, but hey, let me philosophize about KIKO's deeper meaning
).
The colour is really vibrant in the pan.
That brings me to the quantity: you receive a whopping 3 gr of eyeshadow. To compare, dear old MAC only gives you 1.3 gr.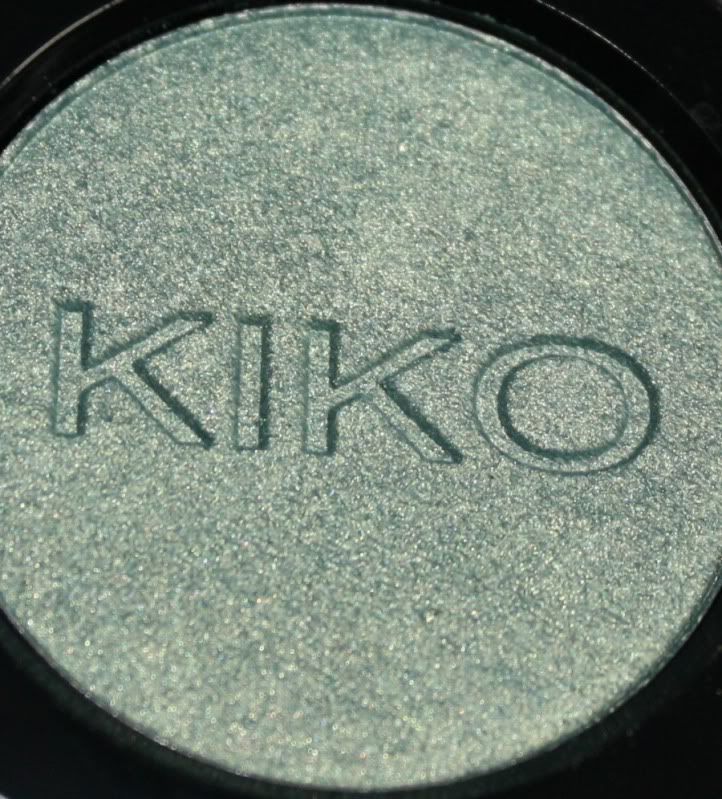 I really like the velvety look of the eyeshadow.
It is pigmented enough to apply without eyeshadow base (I did not use a base in the swatch). So, with a base you can probably get even better results.
Overall, it is a cute little purchase, good quality and a colour that I enjoy, with added memories of the beautiful city I bought it from.
Too bad (or good?) that it is so difficult to get...