The last two months have been in the line of winter survival.
I don't know about you guys, but somewhat the fun in cosmetics gets out of it and everything is more about necessity. Shortly, I'm looking forward for a warm spring so my skin can behave normal again, and I can have fun with my cosmetic goodies again.
Again, I'll have quite some used-ups and hygienic bye-bye's to show...
I'm gonna start with two of my favourites:
The NIOD Copper Amino Insulate Serum 1.00 % has been that wonderfully blue liquid that smells so neutral and layers on like a calming liquid. You mix the 2 bottles up and store it in the fridge: how fresh is that? I saw an improve in the quality of my skin: repurchased already!
May Lindstrom The Blue Cocoon has been a nicely soothing balm, but too expensive and not entirely healing on disturbed skin so I've been looking for alternatives (see here).
Alterna Caviar repair Fill & Fix treatment Mask is a staple, abeit a pricy one. It packs up proteins for damaged hairs which has an instant effect, but also improves hairs in the long run
Fountain The Monecule in Happiness: I already shared my like for Fountain's hyaluronacid infused liquid concoctions and I could use some more positive feelings last months.
Glonaturals Bodylotion: It smells like chemical coconut but it packs in a good amount of moisture into winterskin. I mixed it with pure oils like St. Johnsworth to get extra hydration.
OlivineLove + Roses hydrating mist: Lovely and so natural smelling rose water infusion.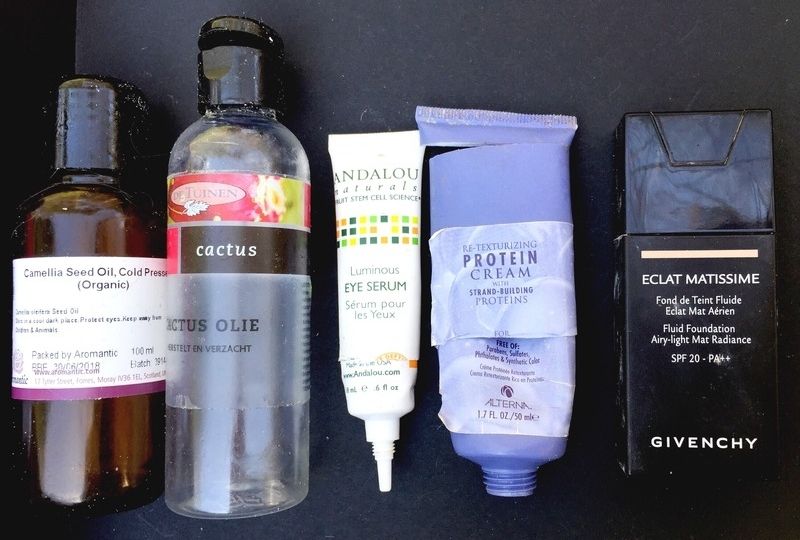 Aromantic Camellia Seed Oil: Aka Japanese Tsusaki oil works wonders on hair and is lovely on skin as well
De Tuinen Prickly Seed Oil: Prickly seed oil is a powerhouse that often sells really expensive, think La Bella Figura's version. I loved this affordable version.
Andalou Naturals Luminous Eye Serum: I order this in one of my Vitacost hauls and it moisturizes wonderfully without too much fragrance. As for anti-ageing? I'd prefer Pai.
Alterna Re-texturizing Protein Cream: This is such a favourite of mine! It smoothes in frizzies wonderfully and builds up hair in the long run.
Givenchy Eclat Matissime: This one is still full: it was not suitable for my sensitive skin.
Bliss FatGirlSlim has been a freebie in some box. I like it, but I'm a firm

(pun intended)

fan of my French line of anti-cellulite treatments (see a heap of mentions here).
Mario Badescu Super Collagen Mask was another freebie. I feel nostalgic for anything Mario Badescu as it reminds me of my 1st couple of online cosmetic purchases around 2000. Then again, it only adds some moisture so I would not repurchase.
Givenchy Acti'mine Wake up skin Base: another full tube I have to abandon as I am too oversensitive for it.
Andalou Naturals Argan Stem Cells Scalp intensive Lotion is targetted for hairgrowth. I have not seen dramatic results but it might have helped.
Kinvaria 24hr Rosehip Face Serum was a serum I bought on a rave review being best thing ever for sensitive skin. Another case of not liking the fragance: household cleaning stuff. Blerg.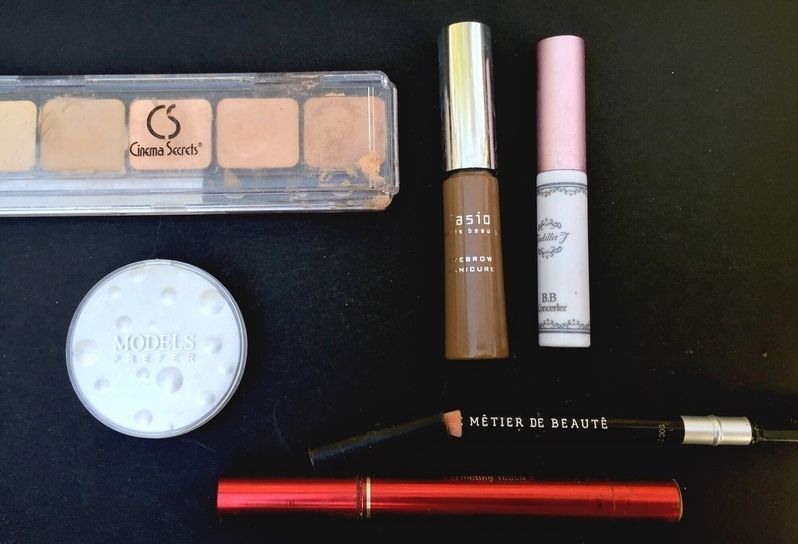 Cinema Secret makes some awesome makeup for professional use. Their concealer palette has been fab for covering imperfections, but I have this palette for many years so bye bye!
Fasio Eyebrow Gel has been perfect for colouring the hairs of my eyebrow when they lightened in the sun.
Jadilla J BB Concealer still originates from my Gmarket Haul days. Funnily, now everyone seems to go K-beauty I find it soo 2008! The colour is too light for me these days but coverage was wonderful.
Another hygiene/older concealer I had to bin is Models Prefer concealer duo. Somewhat it did not blend wonderfully either (green and a beigy colour) so I haven't used it much.
This Le Metier the Beaute eyebrow pencil in blonde has been a perfect colour, but the pigment-hold was not spectacular on skin. Now it dried out...
Clarins Eclat Minute...yes, fab coverage for under eyes but hygiene disposal again.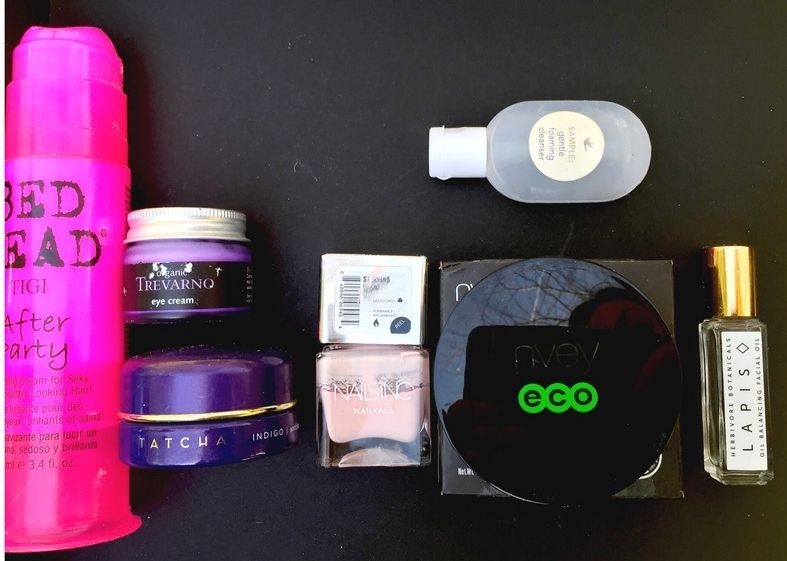 Tigi BedHead After Party is one of those raved about haircreams that make your blowdry last beautifully. I liked it but prefer my organics and Alterna ranges over this one.
Tatcha Indigo Soothing cream is another staple. Must-have for me.
Trevarno Eye cream smelled like herbs gone wild...Also, a bit too thick for eyes.
Nails Inc make some fab 3free nailpolishes that last and look superb. I loved this neutral pink.
NVey Eco compact foundation was the most unblendable foundation ever. No likey.
I already discussed my Herbivore Lapis oil over here and I liked it a lot.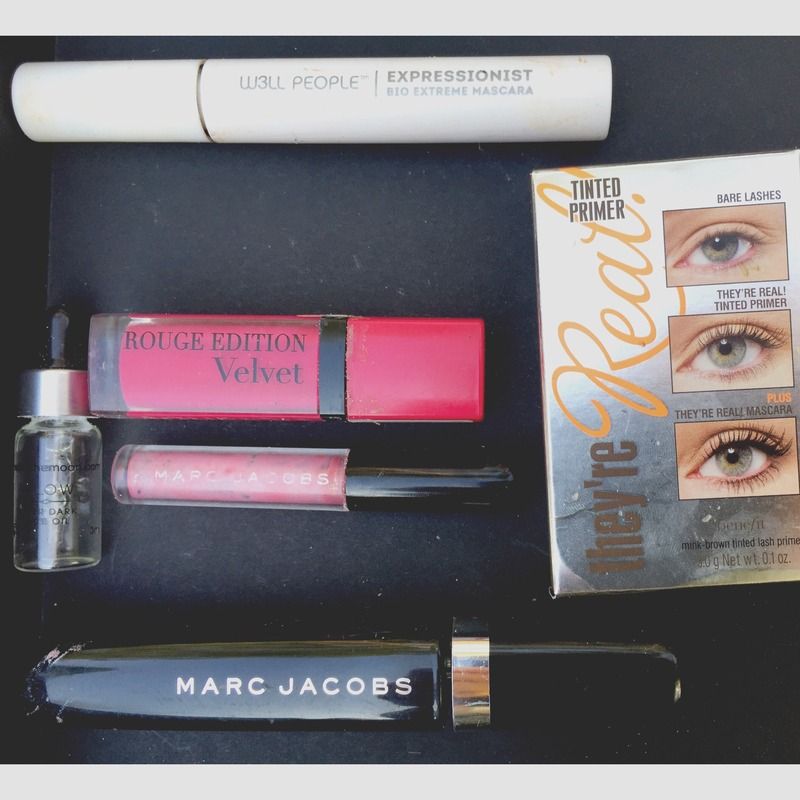 WLL3People Expressionist bio Extreme Mascara is one of the mascaras the natural bloggers rave about. Nice, but they have not reached similar hold/volume over the chemical mascaras.
Bourjois Rouge Velvet in Fuschia has a gorgeous hold and superb matte appearance before this matte-lip thingy has been going on.
Marc Jacobs Enamored Hi-Shine Gloss Lip Lacquer Lipgloss in Love Drunk has been a sample I have been scraping the last bit out. Perfect mauvy shimmer! Adore...
Another Marc Jacobs winner has been his O!Mega Lash Volumizing Mascara I bought in Marseille, France. I would like to try his newer version but the reviews have been mixed.
Benefit Tinted Primer Hey, They're Real does not live up to my beloved Kate Kanebo version (here).
Oh, and the tiny oil on the left has been Kiss the Moon Midnight oil. Soo, gorgeous...on par with my new fascination with Herbivore oils.
Grow Gorgeous End split ends Leave in Serum in from that Deciem line again. Ok, me and my sensitive nose but this is sooo masculine and overpowering I cannot use it.
Arcona Chamomile balm smells amazingly soft, but it also brings in a good amount of soothing softness on par with May Lindstrom the Blue Cocoon, for a fraction the price: staple!
Wella Colour Fresh in Silver 10/81 has been a end-of-holiday toner for my then blonde hair. This one tones gorgeously and only needs one bottle without mixing. More about it soon.
Another case of the ageing makeup product: My gorgeous YSL palette...awww...
Another staple is my Collistar Face Magic Drops for self-tan. Although I don't use it in winter, I use it to match my face to my body on beachy holidays.
I have been using up a lot of staples that are suitable to calm my oversensitive skin during the winter period. I have also ventured on some new products which has been a mixed bag of winners and not-so-successful for me. And I have been able to let go of some expensive brands that will not work for me (aww Givenchy)...

So for next month I hope to cleaned out my makeup-drawer a bit more, and be as diligent as ever to finish up products that I like : )