"And so we're finished"
(but we might meet again...)
I haven't been that empty-
tastic
like
last month
, but I did my share.
Aurelia Revitalise Glow Serum is a repeat serum I crack open before winter starts: it's potent enough with anti-agers but soothes for skin-that-doesn't-like-cold. I've repeated before, and will repurchase next transition.
Ciate Amazing Gracy has been from the 2013 Advent set and it started to thicken up. I wanted to buy this year's set but I had the most craptastic saleslady so I passed at the counter. :( Perhaps I'll get it online anyway.
SWELL Volumizing condition travel size has been such a gorgeous organic conditioner that doesn't compromize on smoothness nor volume. I need the full size but I still have tons of other conditioners to use.
I've been liking this Keep Calm & Spray On ThemeFragance perfume since 2009 and it still smells as good as then, but it's almost finished. They don't have this lable anymore so I'll keep the bottle!

(leftcorner)

This Kose Fasio Smart Curl Mascara curl has been a lovely mascara holding up my curl and giving a nice amount of volume. I won't repurchase as I'm adoring my Kate Base + MakeupForever mascara combo so much.
I'd ranted about Revitalash stinging my eyes but I guess it had been something else. Fact is, it has given me a wonderful grow and some dainty lashes.
Becca Resurfacing Primer has been a GWP but has begon to smell wiffy. It's slightly silicony.
Koh nailpolishes are from a Dutch company with a Japanese aesthetic. Their nailproducts are brilliant, but expensive. I gotten this colour in the Bijenkorf beautybox from last year's GWP.
This Bourjois Docteur Glamour lippy had been in my collection for too long. It still smells fresh but I had to make some space. This gorgeous colour is 15 Fuschia o Boho.
Similar with this NYX Pumpkin Pie: I'm not that fond of nude lipsticks anyway.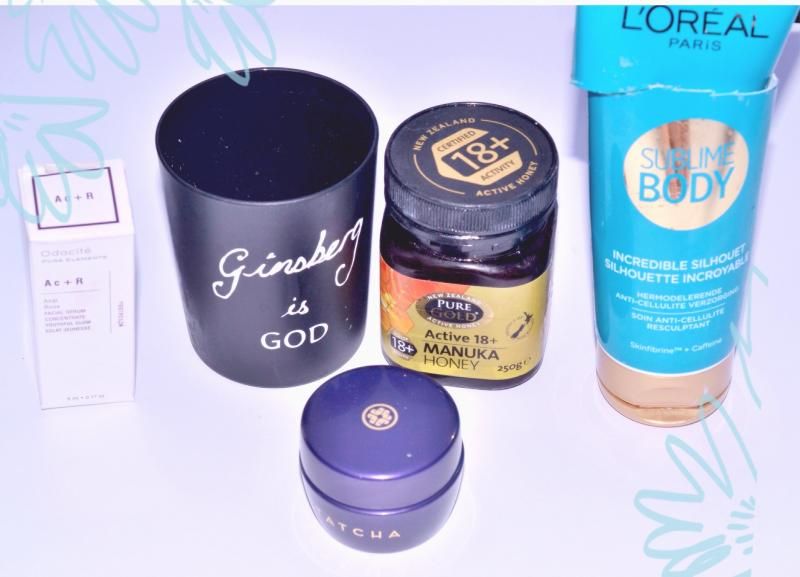 Odacite Ac + R (Acai & Rose Youthful Glow) Oil has been the most gorgeous & glowifying serum on my holidays: a perfect after-sun antioxidant & moisturizing blend. Alas, it's only 5 ml so the price per use holds me back.
I've already bought & used Bella Freud J'Adore Jane candle and I was curious for Ginsberg is God. I prefer Jane as I'm not too fond of fig as a home-fragance. It's still really nice, though.
I guess everyone knows about Manuka honey so I won't elaborate on it.
Normally I go French with my anti-cellulite but L'Oreal

(I consider it American instead of French)

had a BOGO. It's nice, but I prefer my French for celllutite blasting.
Tatcha Indigo Bodycream (travelsize) will gets its own feature on the blog: it's THAT good and I already purchased full-size.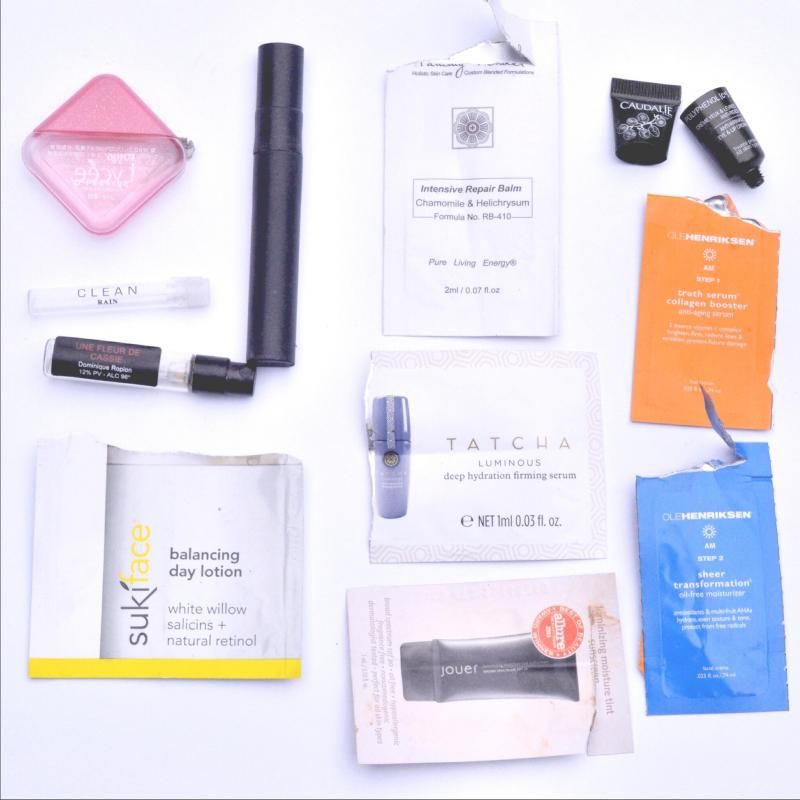 Rotho Lychee eyedrops are a staple of mine. I'll repurchase for sure.
The black tube next to it is Kjaer Weiss Mascara refill. Nice, but so far the chemicals and chemical primers have given me a better result.
The sample next to it is Tammy Fender Intensive Repair cream. I like it, I use to have full-size, and it's rather expensive.
The Caudalie Polyphenol C15 eye & lip serum is also nice. I always use the excess of eyecream for the contour of my lips as well but I like the marketing of including both.
Clean Fresh is like its name, and Frederic Malle's Fleur the Cassis is almost it's florally heady opposite. I like both but not enough for going full-size.
Suki Balancing Day Lotion has been better than I expected. It's thin but moisturizing enough and it kept my blemishes at bay. Potential repurchase.
Tatcha Luminious Deep Hydration Firming Serum feels quite neutral and soothing on. I might upgrade to the 10ml travel size.
Jouer Luminizing Moisture Tint is a wonderful hybrid between a tinted daycream and a luminizer: on some days you just need a bit of extra [faux] glow.

The 2

Ole Hendrikson

's are from Sephora's 7 day '

transforming'

set. Ugh, the more they come with 'transforming'/'flawless' terms, the more wary I get

(they never work for me!)

. The

Truth Serum

is a mild Vitamin C based serum: I used to like this one but I feel there are more diverse serums around these days. Similar with the

Moisturizer

: nicely bland but I'd pick the Suki one over it.




In general, my November was not so spectacular on a social level, but I found some really effective products. I'm gonna discuss some of the likes of #Team-anti-irritation soon. And I'm so delighted that my Tom Ford Lipstick & Boys arrived minutes ago. Thus, I'll be getting lippy and report soon ;).