Let's talk working horses today...
I've gotten myself a new shader after shading happily for 2 years with Burberry Earthy. It happened in the field of "It's not you, it's me" and "I want to try out new things".
I had been tempted for a while by Surratt's makeup-line. I've seen several reviews of the gorgeously neutral Grisaille online. Perhaps neutral shader's are not the most exiting part of makeup but for me they are one of the more essential parts:
I consider myself quite vain
my nose is not so small
However, I don't like the idea of plastic surgery involving hacking into bones
-> good ol' makeuptrick: the shader!
I only had 2 types yet (older review
here
): Burberry Earthy & Illamasqua Disobey. I liked both but only went for Burberry Earthy later as it is glowier. The only thing about Burberry blush is the strong rose fragance. There are de-scenting methods by using charcoal (see
DrivelbyFrivol
about it) but I haven't been bothered. I'd rather try something new, especially after the
superenabling GWP
that Liberty had on.
I'm still going to compare the three of them.
Gathering of the pans:
At first sight I can seee Burberry being the warmest one leaning towards brown. Illamastqua looks ashier and slightly deeper. Surrat looks the most neutral and even slightly cool.
Swatches
:
(3 swipes of blush over Lunasol Cream foundation OC20)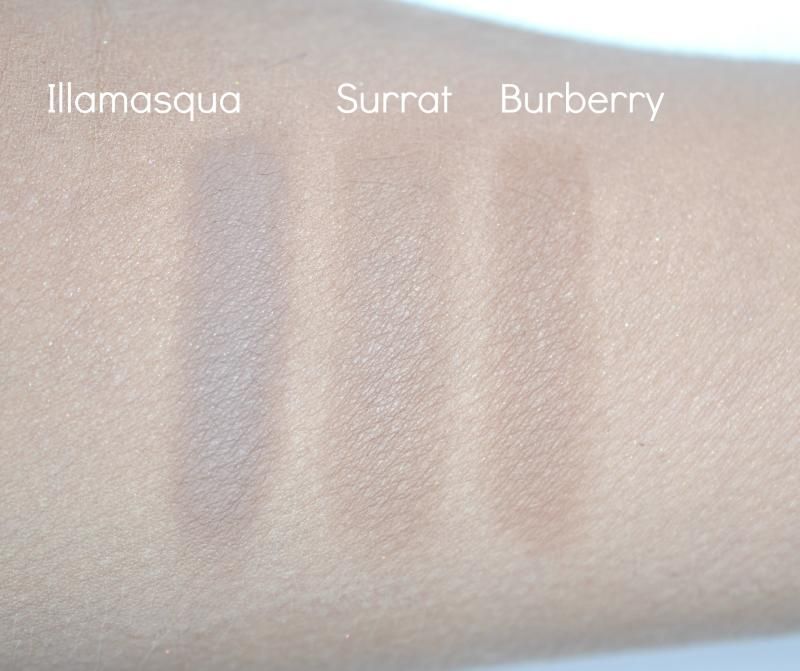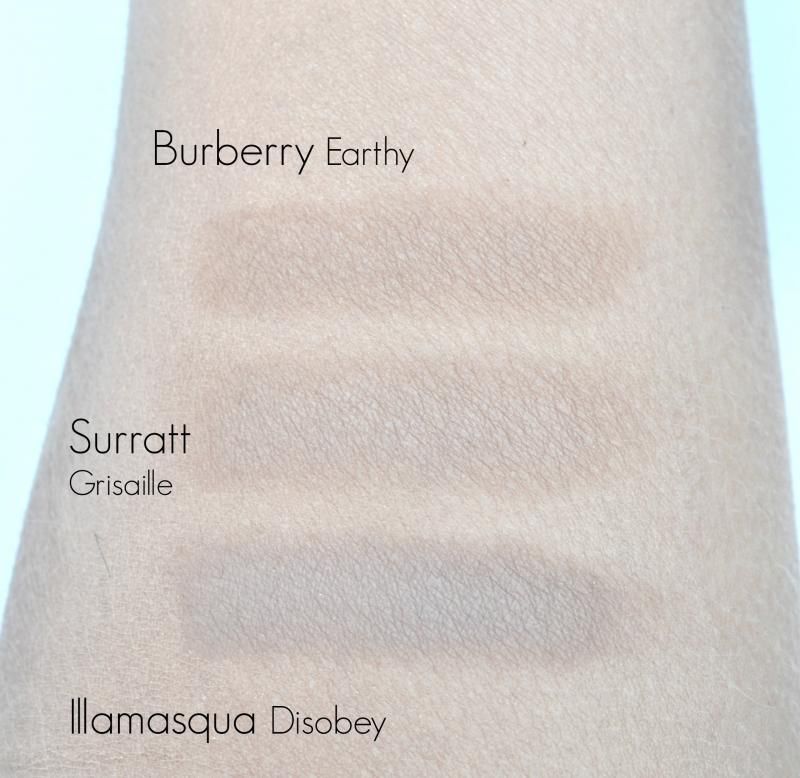 Oh, what a difference! In the first place I notice Illamasqua having a weird grey cast I have not noticed before. It seems it oxidises quickly: perhaps it"s expired.
Burberry & Surrat both have a gorgeous soft glow that mimics healthy skin. I consider the microglow particles to be similar
(for closeup, click photos)
.
Burberry is a tad warmer than Surratt. I think it still qualifies as a blush and it looks stunning on redheads (see
here
). In that case I think someone should be really cool-toned to make Surrat Grisaille look like a blush.
Surratt Grisaille is a real shader colour in terms of neutral undertone
. Is it a real taupe? I think so. One coat is light enough for the lightest skintones: it builds up to a good deeper tone that will shade up to N 35 skin.
Best of all:
Surratt is scentless
! The texture reminds of of the luxurious Japanese brands like Three and
(from memory swatching)
Suqqu blush:
I mean, look at the picture above. It's so smooth and the shimmer is so delicate and neutral (a platinum colour? not sure).
It stays on for 8 hours & more on prepped (primer/foundation) skin and does not oxidise. It fades evenly after 10 hours.
Conclusion
: one of the better purchases of the last months and a classic in the making.