I first want to make a special mention to my Lavshuca Moist Melting Rouge PK 6 that I totally lip-pencilled out!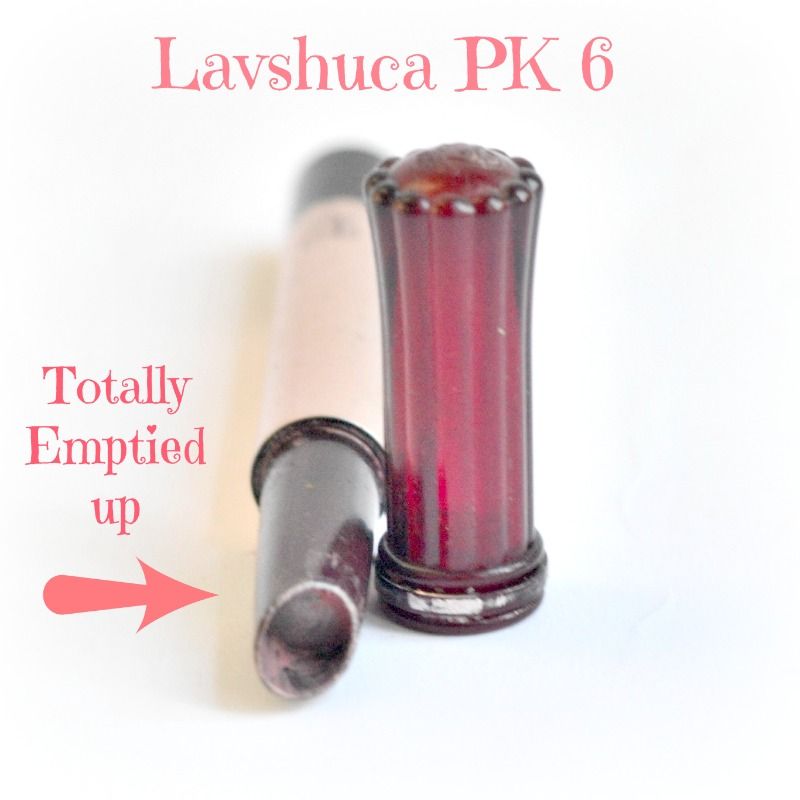 I once compared this sweetie with Chanel Flirt (see
here
): I still have Flirt but I used this one totally. It might be that I am too careful with an expensive lipstick but I just
luuuurve
Lashuca's formulas and
thin-to-bring-on-the-road
size.
The other empties: the Hair-department:
The yellow Le Petite Marseillais hair conditioner with honey has actually been bought in Marseille (South of France)! It is one of their easy-to-find beauty line [think supermarkets] that smells wonderful and performs really well, also on my older (reaaaally damaged) hair. I'd sure repurchase if I empty some other conditioners, and get my way to France, ofcourse.
Another hair conditioner that totally matches up with my newer hair has been Yarok Feed Your Volume travel size. It smells like fresh lemons & herbs, and it does give tons of body. It's really nice when your hair doesn't have that much damage (think top half & shorter 'dos). Even better, it is a bliss for people who have scalp-sensitivities and skin sensitivities as it is so natural and un-irritating. Cons: expensive.
Lush Marilyn is a hairmask for blonder or highlighted hair, but also wonderful for brunettes/redheads who like a fresh, lemony scent and a thinner mask that still moisturizes enough. Most Lush products have gone quite expensive over the years; this one is still quite close to its original price.
Swell Advanced Root Nutrient Complex

(spray in front)

needs a more detailed review than just me saying: 'love it'. It's a spray that reminds me of Phylia de M Connect & Yarok hairmousse in one. My hair is quite thick again after the treatments in 2013, but I like that Texas hair glamour these days so volume you go in an organic/natural way.
I bought my Kerastase Elixir Moringa Immortelle during summer 2012 and I just finished it. It needs little product and smoothes out with a fresh scent. I like the Elixirs but right now I'm on another hairoil/serum. I will come back to that one soon.
The Shu Uemura Muruto Volume Mask was discounted, and with another discount it was still expensive...hehe, but I was curious...I like it, but it smells quite chemical if you get more used to Yarok and other organic/natural products. Also, I believe the new natural/organic generation delivers just as well, or even better in terms of volume. Must be the herbs...
So let's talk organic/natural:
The black bottle on the left has been my Living Nature Tinted Moisturizer in Daylight. I'm really impressed by their tinted moisturizers, on par with the likes of Rouge Bunny Rouge & Omorovicza. I do think the difference between medium (Daylight) & Dawn Light (light) is a bit too much so I've been mixed both depending on my level [or absense] of selftan. It has macademia oil as its 3rd Lingredient and is 100% natural.
*
The white bottle in front is another
S5 Serum
sample in
Renew
. I like it but not as much as
Nourish Relax serum
.
*
The sack is inner beauty, or one of my superfood additives [addictives] in the antioxidant-forming Acai Powder. I already repurchased this as it tastes berry-ish and I feel healthier on it.
*
The empty candle has been my Neom Refresh with sicilian lemon: really zesty during sluggish mornings.
*
I've discussed
Tisserant Luxury Bath oil
over
here
and will repurchase.
*
Last, and certainly not least,
Manuka Honey 18+
. It is not just inner beauty: I use it as a cleansing method (read over
here how to)
, an additives to powder masks, and...
duh
, inner beauty. Oh, and you can double it up as the main ingredient of a hair lightening mixture that works without damage: more about that
here
and
here
.
Hold on for the last line-up of empties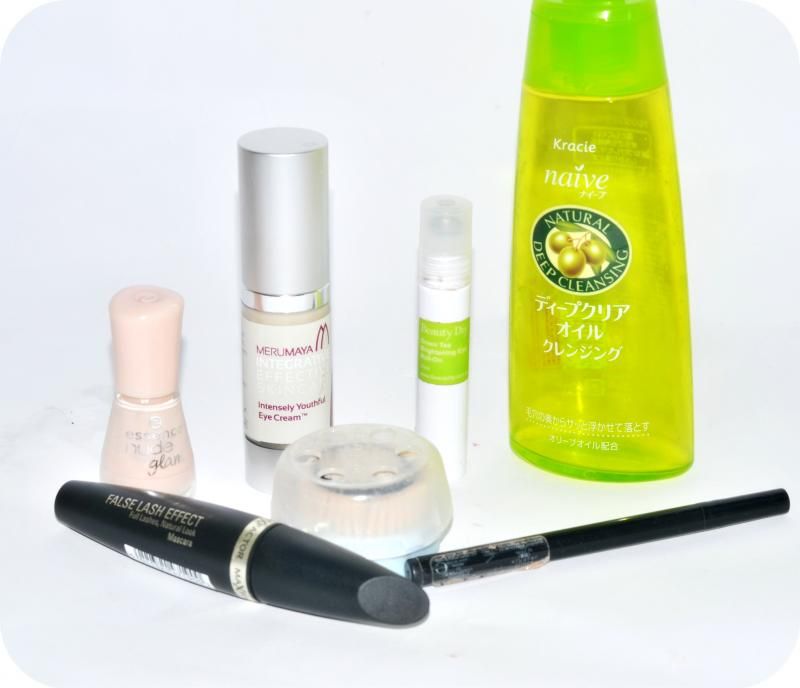 *
Essence Nude Glam
's are fantastic nude nailpolishes for their price. Repurchase for sure.
*
I haven't used up the
Merumaya Intensely Youthful Eyecream
. I didn't like the Ayurvedic-based fragance which lingers on quite long. My sensitive skin wasn't too fond of the formula either.
*
Talking about eyes, I really liked
BeautyDIY Green Tea brightening Eye Roll On
. Unfortunately it is not being sold on Sasa.com anymore. Also, Sasa has been quite inconsistent delivering to my adress so I will have to forget about that online shop.
*
Kracie Naive
has been a lovely
oil-cleanser
for some time. However, I will venture upon the organic market for a more
un
chemical oil cleanser.
*
The
Clarisonic brush
: Well, you gotta replace them after 3 months and I often want to do it earlier, but they are expensive so 3 months it is.
*
I also didn't finish
Max Factor False Lash Effect
: it gotten various raves but I found the formula dry and clumpy, and the brush too big for precise focus. Mascaras are often a personal preference so I'm glad it is not the most expensive type that I will throw away.
*
My
Suqqu Eyebrow pen
dried out a bit too fast: according to another blogger that is not normal from Suqqu. I gotten it from a non-official Suqqu seller so that might be it.
Those were quite some empties for December: I 'compensated' by buying too much new stuff, ofcourse. And you will see that on the blog again...