My blog is called 'Birkinbagbeauty: stylish items and style items', so I guess I should be talking about style icons as well, LOL.
As my blogname suggests, I absolutely adore Jane Birkin and the iconic Hermes bag inspired by her. However, I want to give Twiggy the first honour of mentioning, because she was THE face of the sixties, and is as stylish and succesful today!
Younger people (in their teens and twenties) probably remember her from her appearance as (the friendliest) judge in American Next Top Model. Or, as Tyra dramatically anounces: "Twiggy, living legend"...
Twiggy is the woman on the far left
Thirty-somethings (meeee) probably remember her name from their mother, who dramatically announced Twiggy their style-muse in their teen years.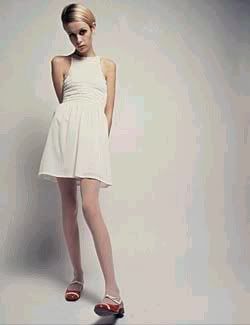 So the fifty-somethings remember Twiggy as their ultimate muse for wearing shorter-than-life skirts and dresses, much to their parents dismay.

What I absolutely like about Twiggy, is how she aged. As you can see, she was a real stunner in her younger years. She had her own style (short cropped hair...and ofcourse...the skirts)
Twiggy has aged gracefully. She has adjusted her personal style, and, that makes her as gorgeous as ever. Her hair is long now, and her clothes are fashionable, but not too OTT.
She is not making a karikature of her former famous self...unlike Janice Dickinson
The young Dickinson
The karikature


And Twiggy has such a fab new tv-show, called Frock Exchange, on BBC 2. Every tuesdaynight at 9 pm GMT (or 10 Central European time) I am completely glued to the TV!

Ingredients for this show: a bunch of women who bring one of their clothes for swap, some customizers (a woman who customizes clothes…), some celebrities who donate one of their gorgeous high end items to one of the lucky girls on the show, and Twiggy!!!!

I totally love the idea of merging cool (vintage) with the necessary (the dreadful Credit Crunch and our lack of money)...and let's not forget the environment (swapping is better for your carbon footprint than buying endlessly). Some swappers really hit the jackpot with ultra-fashionable vintage clothes...and really exclusive 'one-off' items as well.

So, that is why I announce Twiggy to be one of the style icons for this blog: she was so influencial in the sixties, she has become a wonderfully friendly and gorgeous woman, and she makes a kick-ass tv show which merges the best of fashion!